I've actually been called a "snake guy" in the past; I know, it's hard to believe. The truth is, while I do have a fondness for snakes and other herps, I've always been passionate about all wildlife. So, to prove it, here's the first non-herp related post to ever grace the pages of michaelcravens.com.
This summer I spent a lot of time looking for and learning about crayfish. In the midst of this "crayfishing" my friend Brian Scheidt, who teaches geology at our local community college, came across a leaflet announcing a Stream Team workshop and field trip being held in West Plains, MO. The workshop was on crayfish identification and was to be presented by Chris Riggert, a stream biologist for the Missouri Department of Conservation. The workshop could not have come along at a more appropriate time; plus, the fact that it offered the opportunity for a of couple nights camping and a couple of days exploring a pair of Missouri's most beautiful rivers meant talking Brian into coming along wasn't all that difficult.
Before I get into anymore detail on the workshop I've got a few random pre-workshop crayfish photos that need to be plugged in here somewhere, so here goes:
These first two are of Orconectes palmeri, the gray-speckled crayfish. In Missouri, this is the only species of a predominantly Ozark genus to be found in the swamps of the southeast lowlands. This individual is from Mingo NWR.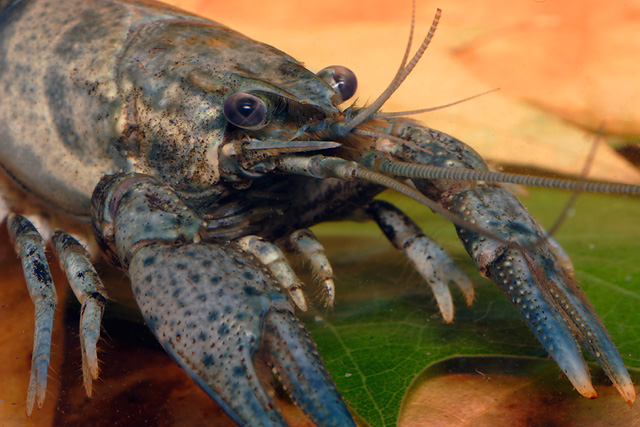 The following three crayfish are very close cousins from two equally close drainages. The first two photos are of Orconectes peruncus, the Big Creek crayfish and Orconectes quadruncus, the St. Francis River crayfish; both of which have carved their own separate niches into the St. Francois River system. The third photo is of the possible parent species of the first two, Orconectes hylas, or woodland crayfish. This crayfish makes its home in the Black River drainage that flows through the St, Francois Mountains. It's an apparent fact that O. hylas has been introduced into the St. Francois River system in many locations. Most likely this has occurred by the means of fisherman collecting bait (O. hylas) in one drainage and then using and discarding it in another. Unfortunately O. hylas is the larger and more aggressive of the three and seems to be displacing its two smaller cousins in many areas of the drainage.
O, peruncus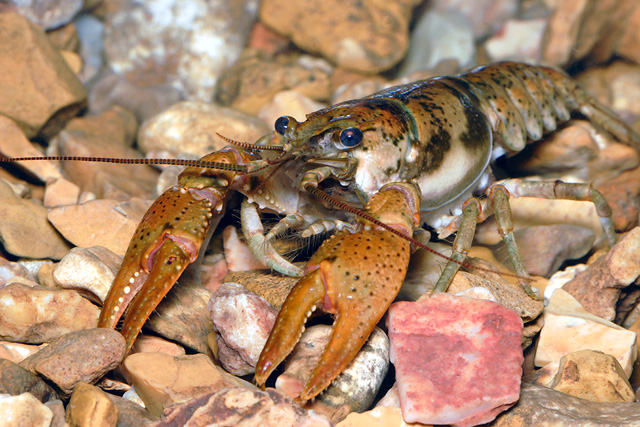 O. quadruncus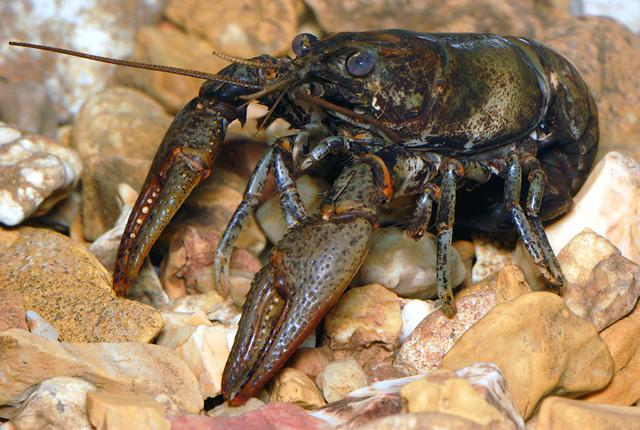 O. hylas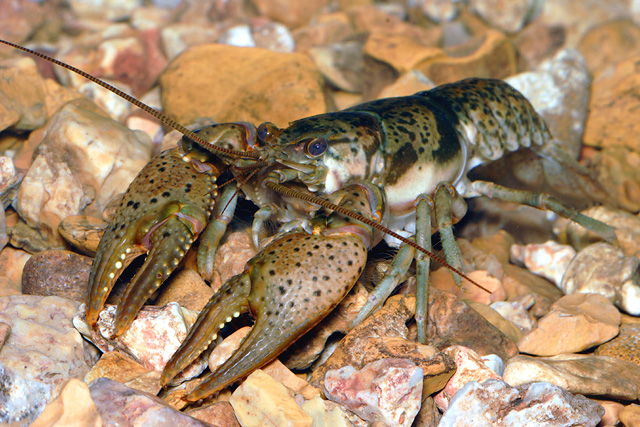 Here's a close up Orconectes luteus, or golden crayfish. This is the most common crayfish in much of the Ozarks.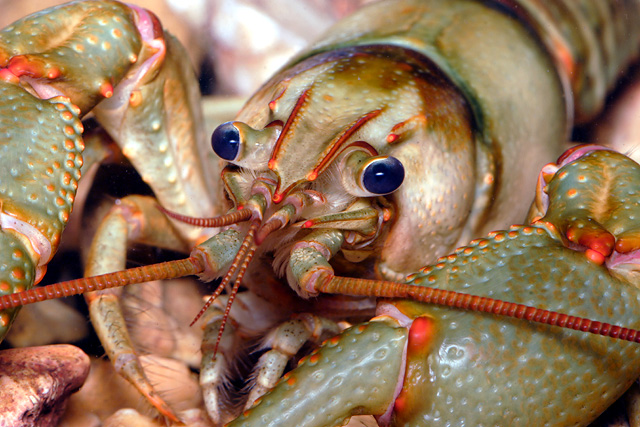 Here's another very common crayfish of the Ozarks, Orconectes punctimanus, the spothanded crayfish.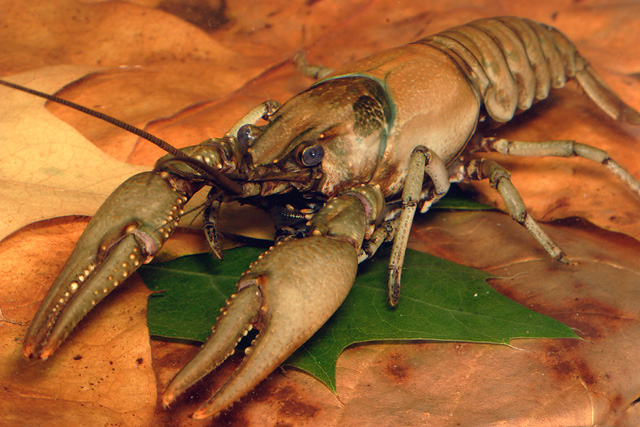 I tried to get a littlie artsy with this one; I wish the end result was a bit better. In my defense though, it's not easy to make art from a crayfish.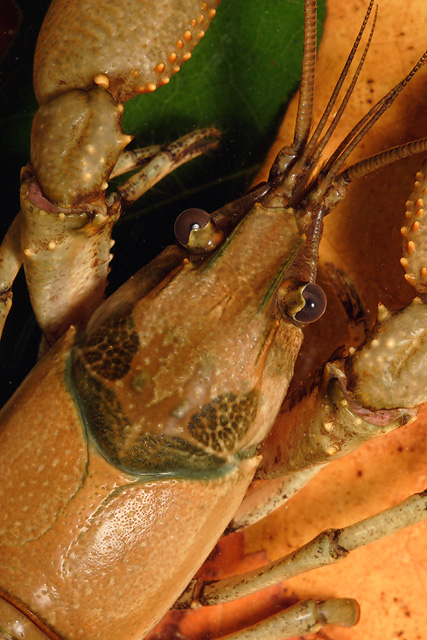 Ok, back to the workshop.
Brian and I took off Wednesday evening putting us at our campsite, in the North Fork Recreation Area, well after dark. Lucky for us, some kind sole had left a neatly stacked pile of fire wood just waiting for us. But, being so close to the river we couldn't help but do a little bit of crayfish sampling before warming up with a campfire. That evening the only species found was the Orconectes neglectus, the ringed crayfish. We had both seen this attractive crayfish on previous hellbender trips to the area but we were certainly happy to see it again.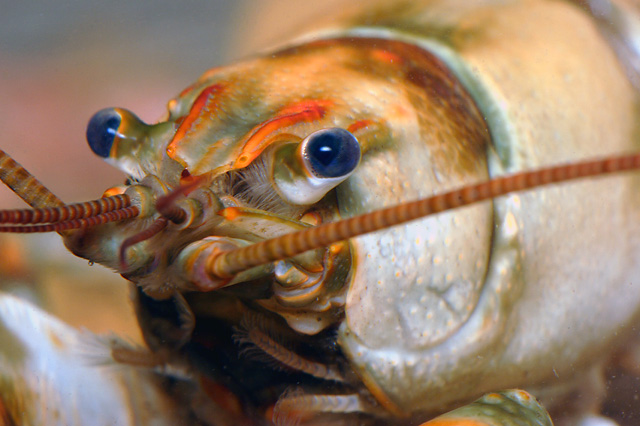 After a cold cold night we were up early and headed to West Plains for the workshop. The first half of the workshop was a lecture on the natural history of crayfish followed by a hands-on identification lab.
Here's Chris presenting his lecture.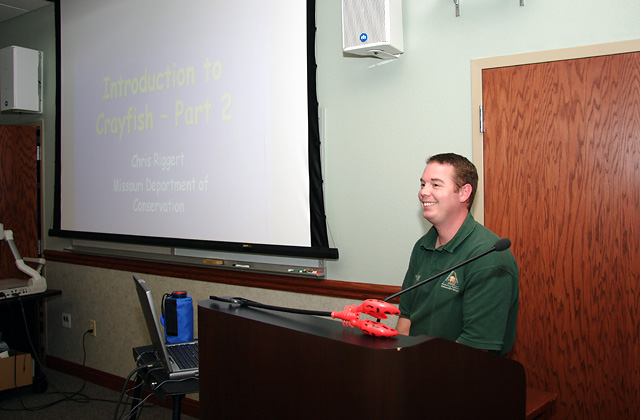 Next, we were all given our own crayfish to identify using William Pflieger's diagnostic key.
Here's Brian pretending to do some science for the camera.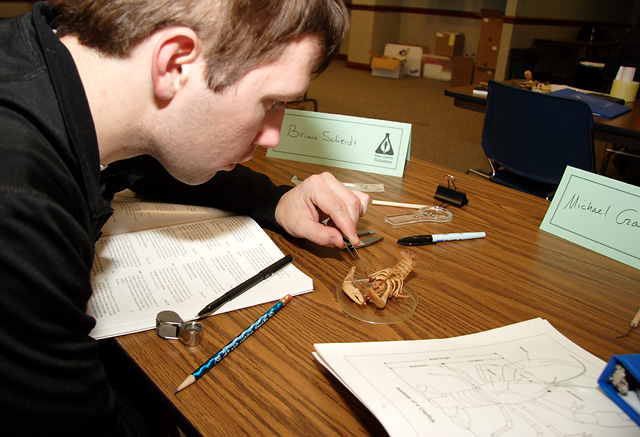 After keying out our crayfish the workshop participants were given free range to Chris's collection of Missouri crayfish.
In this photo Mary and Shelley of the Missouri Department of Conservation stand at the ready to offer help and advice.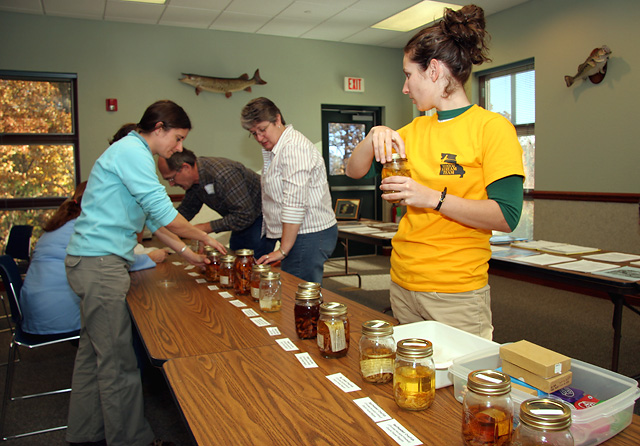 Brian and I cut out of class just a little early so as to have enough daylight to make it over to the relatively nearby Warm Fork of the Spring River; where we hoped to find the rarest crayfish in Missouri, Orconectes marchandi, the Mammoth Spring crayfish. Thanks to a tip from Chris it didn't take long to find our target.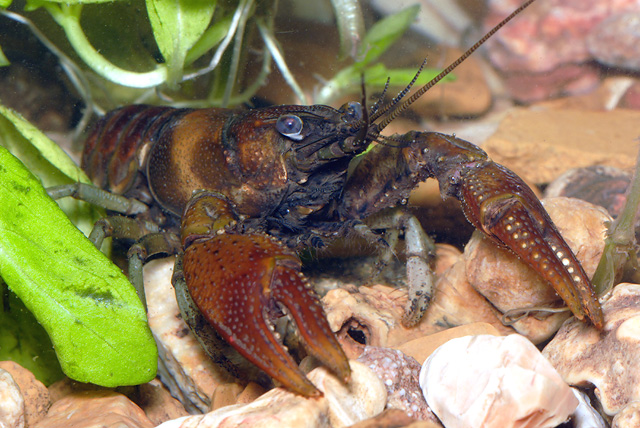 After another very cold night it was time for the field trip section of the workshop. Regardless of camping not twenty yards from the rondevu point, Hamond Access, we still managed to be the last ones to arrive.
Here's Chris heading out after some crayfish.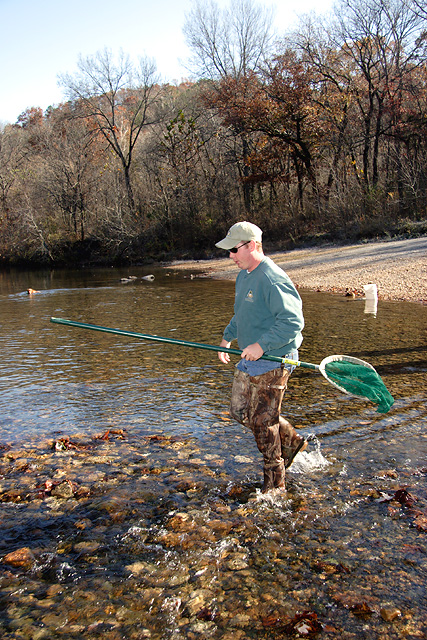 And here's Shelley checking her net.
Another of Shelley, this time posing with a fine spothanded crayfish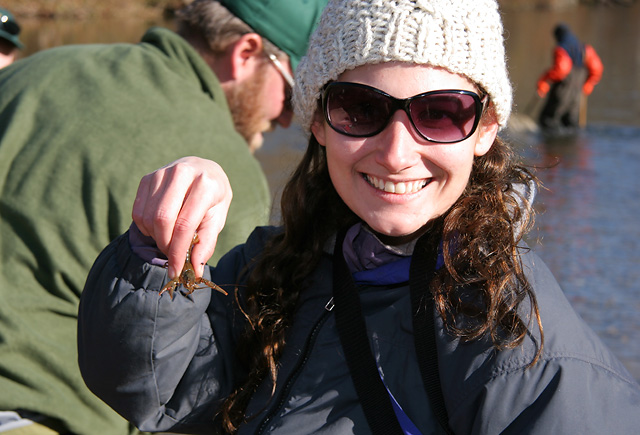 Here's DEO, Jason, (MDC fish guys), and Chris kick seining for crayfish and darters.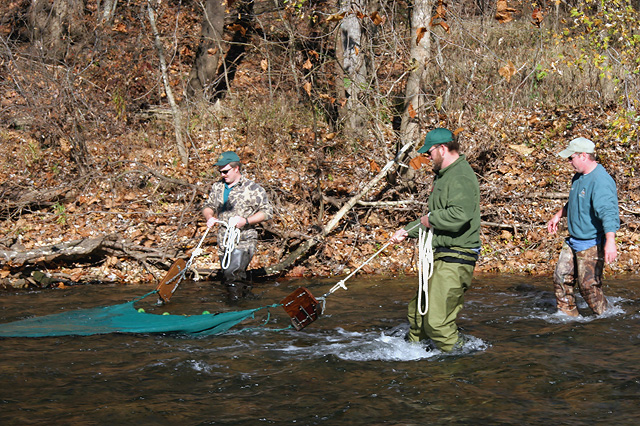 And here's Jason with some of those darters. Jason is an old friend of mine that I had not seen in many years, so it was an unexpected treat running in to him at the workshop.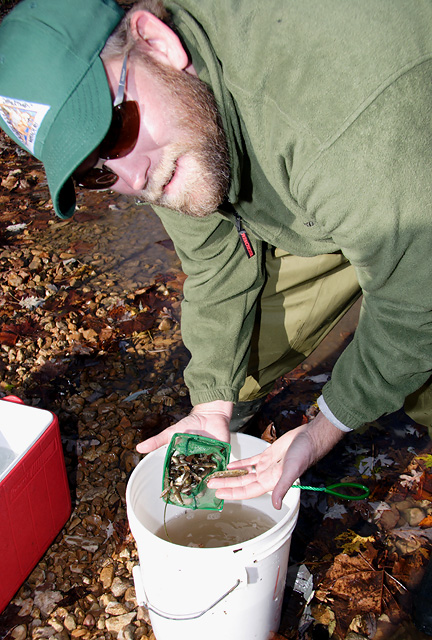 Brian posing with a grand-daddy ringed crayfish. (Brian, feel free to take this photo for your myspace account. I'm sure you'll you be regarded as one of the coolest with this photo) (also, no need for a rebuttal about my myspace hellbender pic as the irony has already occurred to me)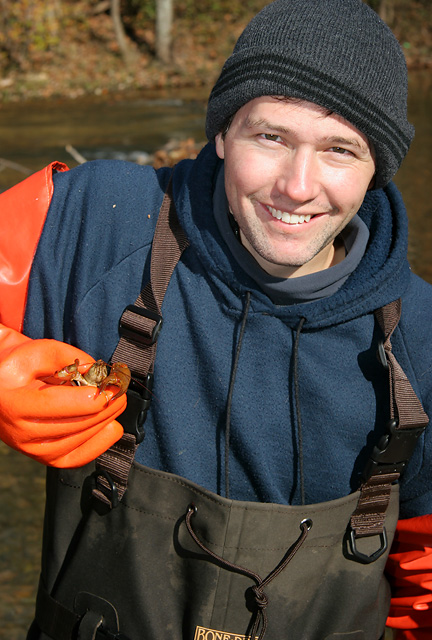 As always, Quinn was along.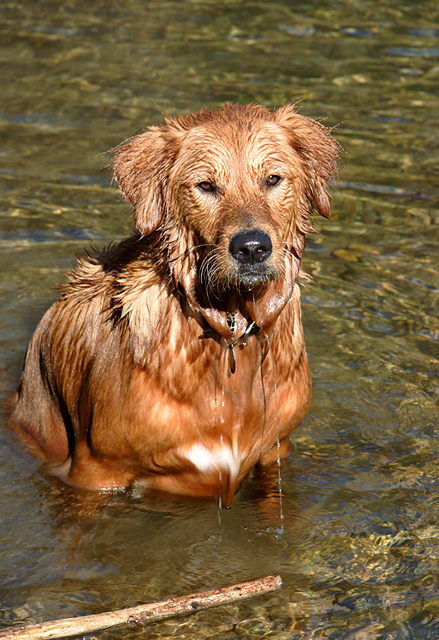 Again, Brian and I left a little early as we wanted to try for two more species on our way back home. We were on our way to the Eleven Point River when we passed a promising looking little stream along highway 160 called Barron Fork. We decided to give it a try and I'm glad we did because that's where we found the first of our two target species. I think?
I haven't keyed this one out yet but I'm pretty certain it's Orconectes ozarkae, the Ozark crayfish; I can't figure it being anything ells considering the area we found it. If anyone wants to offer up advice here, I'd happily accept it.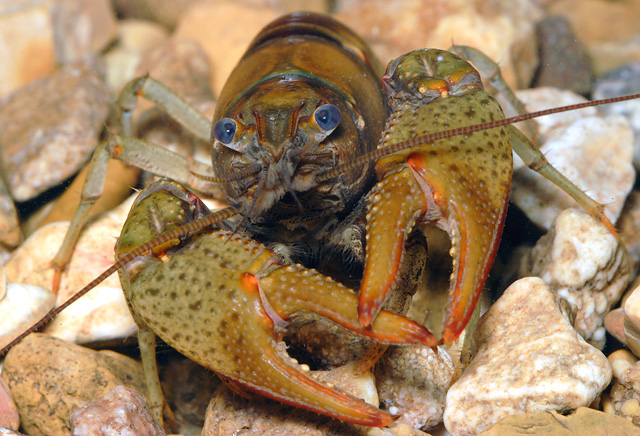 We had one more species to try for before heading home, Orconectes eupunctus, the coldwater crayfish. Thanks again to a tip from Chris we had no trouble finding it. A combination of the beautiful red, green, and blue colors of this stout little crayfish and the fact that it lives in one of the most beautiful rivers in the state made it a fitting species to wrap up our trip with.
A BIG thanks to Chris Riggert for putting on a fantastic workshop!