This year I only get to share pics of herpers from the fall "Snake Road" season as my herp photos are being saved for another project.



My first weekend in southern Illinois got me two new lifers: a western lesser siren (thanks Brian Willy) and a spotted dusky salamander (thanks Bill Peterman). I also had the privilege of getting to herp with Scott Albert again; plus I had the fortunate opportunity to get to meet and herp with Mike Steffen and Cy Mott. Some great salamandering was had this day.



Seen here from left to right: Mike Steffen (basketbreaker), Cy Mott, and Scott Albert (salbert).
Living only a couple of hours away from the infamous road allowed me a return trip the following weekend. My weekend didn't get started until Saturday evening due to having to work that day. By the time I made it down the campfire was already blazing and the conversation was already flowing. The bulk of the group was made up of Fieldherpforum.com members. This was a rare opportunity for so many likeminded individuals to get together for some camaraderie; a good time was had by all.



I'll do my best to get all the names right in the following photo.



From left to right: Tracy, Quinn, Jason Folt, Scott Albert (salbert), Nick (nburgmei), Andrew (Indianaherp). Next is Leslie, then Deana, Greg (purdueherper), Jamie, Mitch (shaggybill), followed by Mike Pingelton, Brian Scheidt, Rex (Liochlorophis), Don (Psyon), Todd (HoosierHerper), and finally Todd's dad, Jeff.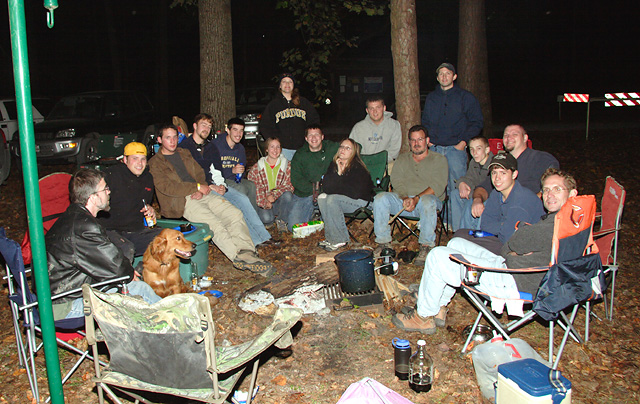 Sunday, I spent most of the day kind of dragging around due to sleep depravation and a slight hangover, however I still managed to find a few of the usual Larue herps. Sunday night found me back at the Pine Hills Campground where a good portion of the evening was spent eating somores and drinking a few beers with Wayne Brekhus (WayneMO) and his wife Rachel.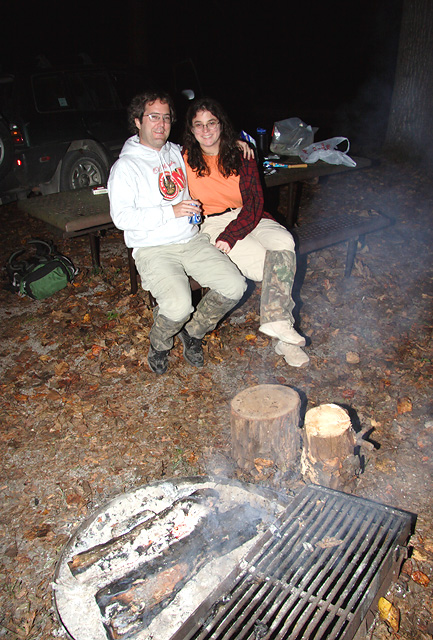 Monday I had plans to meet up with Dan Wylie (herpboy) and Russ Jones both from Ontario. Before getting to "the road"; I made a detour to Oakwood Bottoms where I got to photograph a juvenile kingsnake and a midland painted turtle. This took much longer than anticipated putting me at the road later than I planned. By the time I met up with Russ and Dan it was already getting late in the day. Regardless, we found a few more animals and had some good conversation. Here's the three of us, and of coarse Quinn.
Finally, here's a photo of the ever-present Quinn; he loves to camp as much as I do.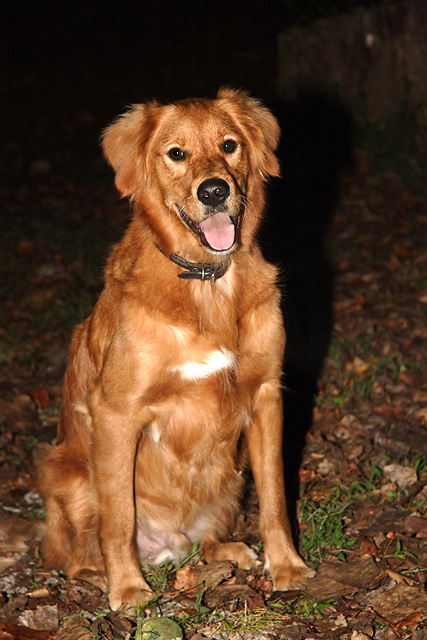 There are not too many other venues out there that draw so many herpers to gather under ideal camping conditions as the Larue Pine Hills. I consider myself lucky to be close enough to take advantage of the situation every year. It was nice meeting everyone and I hope to see you all next time.



Now, since it's been raining all day with no sign of letting up I think I'm going to have to go do some road cruising for Ambystomatids.