I received an email from Bill Peterman who wanted to try and pick up a few species in the St. Louis area on his way back to school at the University of Missouri in Colombia. Bill had spent the bulk of his summer doing research on salamanders of the lower Appalachians, and St. Louis happened to be right on his way home. We decided that despite temperatures reaching one hundred degrees we would give it our best shot anyhow.
I met up with Bill around on Sunday near my home where I told him we could pick up a lined snake right outside my front doorstep under some landscaping blocks. As karma (and severely dry conditions) would have it, this would be the first time I've checked the blocks and found nothing.
I had previously made plans to meet up with another herper, Rich, who had graciously offered to show me around some habitat on the Illinois side of the river where he had found DOR bull snakes in years past. Bill and I had a few hours to kill before meeting up with Rich so we decided to check out a spot that's known for crayfish snakes and a few species of water snakes; the latter is about the only thing that we figured would be a sure bet in the sweltering temps.
After about an hour of sorting through riprap along the Mississippi River Bill found this nice looking northern water snake.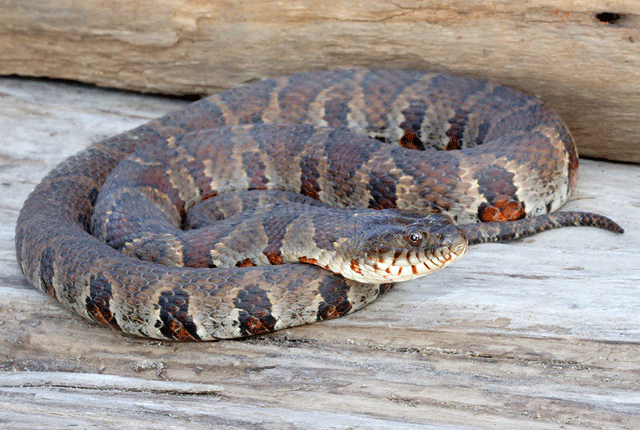 A bit later on bill uncovered another water snake, this time it was a new species for him a diamond-backed water snake. Unfortunately it was quite opaque so I passed photographing just the snake but I did grab a shot of Bill holding up the fruits of our labor.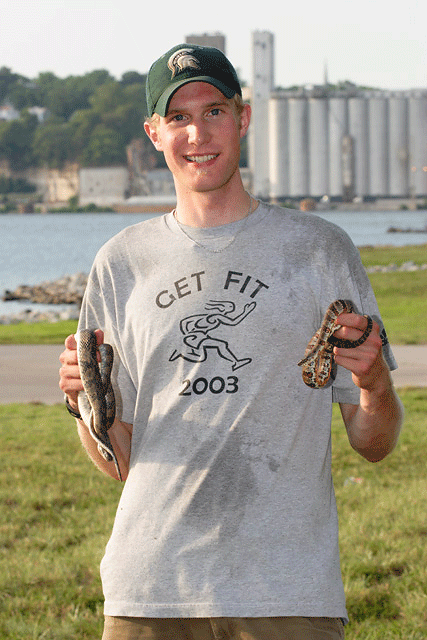 By this time it was time to meet up with Rich so we headed over to Illinois. No herps were found the rest of the evening other than bull frogs and a musk turtle, but thanks to Rich we did scout out some good habitat prospects for bull snakes in the spring.
The next day we were up early trying to beat the heat but it was already hot. Bill had not seen a timber rattlesnake so that was our target for the day but before we headed out Bill went out front and checked the blocks again this time finding his lined snake.
Arriving at the first spot it didn't take us long to find this nice big osage copperhead that was apparently a part of someone's research project due to the stitches in its side.
After some more searching around the area we did find Bill a rattlesnake but only a glimpse of scales deep within a rock cervis. We figured this wouldn't due so we headed to another spot where we were rewarded with a nice timber at the first spot we checked.
Here's bill photographing his first, well second, rattlesnake.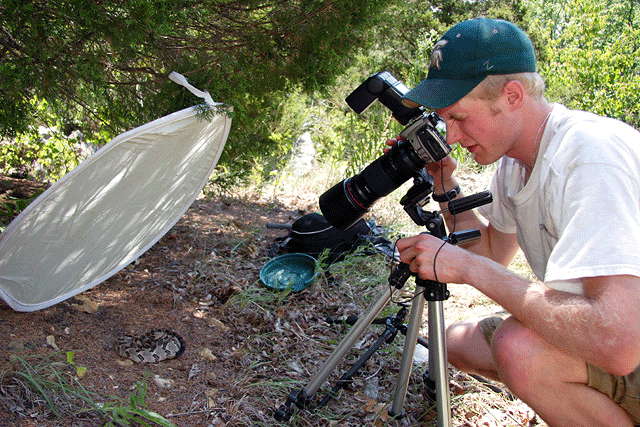 I'll have to admit that I was glad to have found this one because I wasn't looking forward to anymore strenuous hiking in the oppressive heat.
After our rattlesnake we decided that our time would be best spent searching for and photographing frogs in the shade of a spring fed creek where we found this pickerel frog and green frog.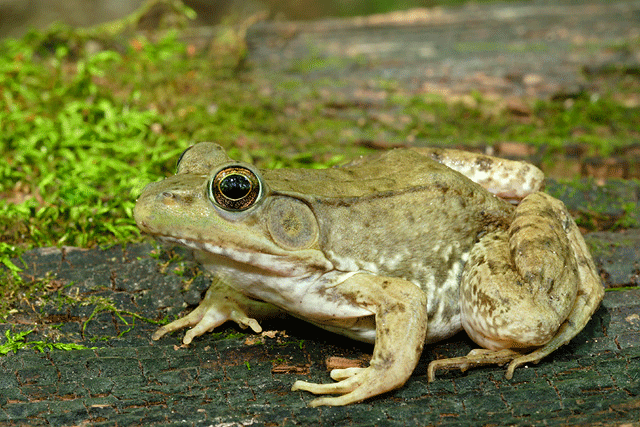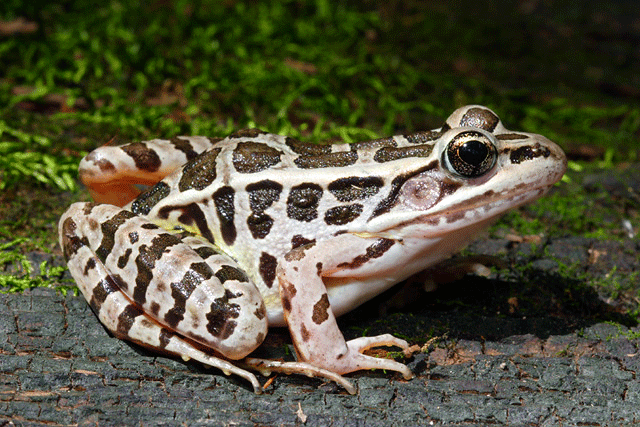 The rest of the evening was spent knocking back a few brews at the Shlafly Tap Room, a fitting end to a great day.