Ryan Thies (serpentryan), Brian Willy (Timber17), and I all headed for central Missouri to do some glade herping. We were attracted to the area due to old scarlet snake localities, a species that has not been seen for many years in the state of Missouri. We were not specifically looking for scarlet snakes, and of coarse didn't find any; but just knowing there was a chance one could turn up somehow added to the trip. A bit of hiking/bushwhacking through some steep terrain was in order to get to the glades but turned out to be very well worth the trouble. The glades turned out to be some of the nicest I've ever had the opportunity to turn rocks on, large flat slabs of limestone were in abundance and seemed as if they had never been turned by another herper.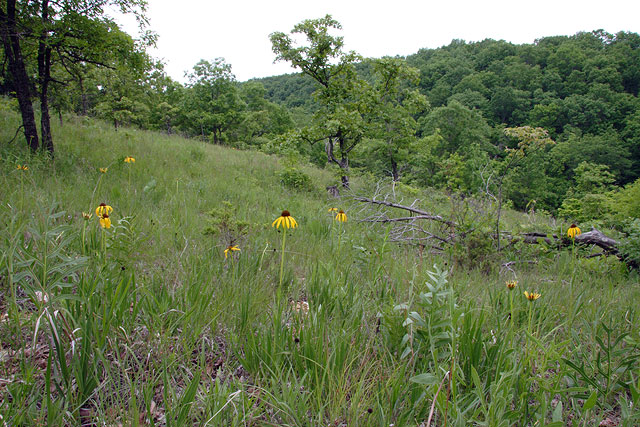 On our way down the first hill we came across some small gladeish clearing in the woods where I found a rock that simply screamed out copperhead; so I said so aloud and then turned up this nice osage from under it. It's nice when it all comes together like that and it looks like you know what you're doing
.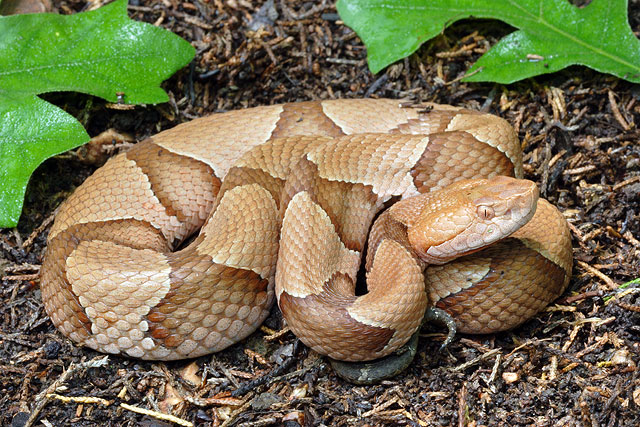 After we had made it to the main glade it didn't take long before I flipped the first milk of the day, a large adult that was slightly opaque. Just a few moments thereafter Brian calls out that he had found another one. Brian's was much nicer looking so we went to making some photos of it.

Here's Ryan looking happy with both of them.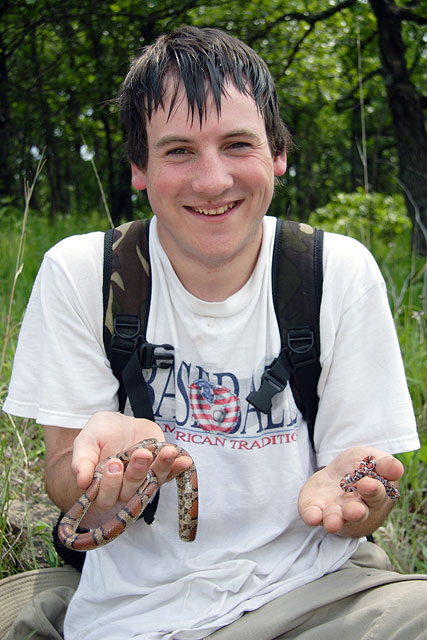 Tarantulas were abundant…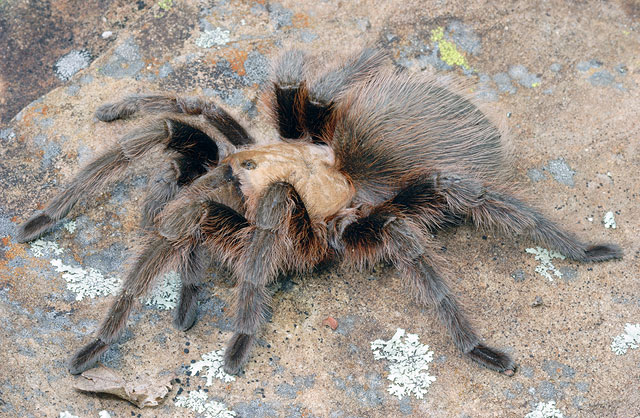 and scorpions were everywhere.
A bit later Brian found this very nice adult milk.

This small speckled king was found by Ryan.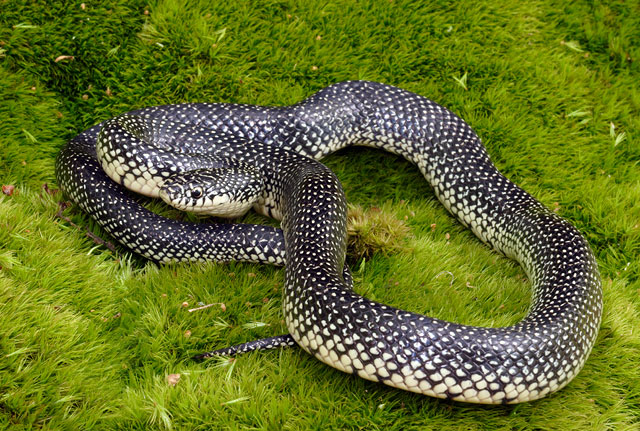 Ryan also found this gravid coal skink that refused to allow a decent photo of itself to be taken.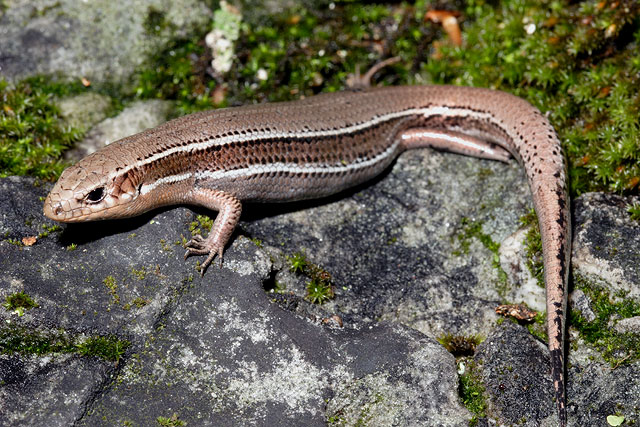 I found this nice looking adult milk in-between rock layers; or, a rock on top of a rock. When the elements come together correctly this seem a preferred micro habitat for Missouri syspila.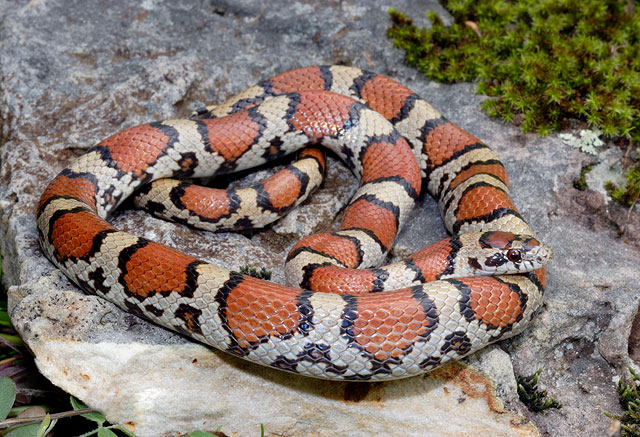 Many more milks were found throughout the day (7 total) along with many of the other common glade inhabitants like Ring-necked snakes, rough earth snakes, flat-headed snakes, slimy salamanders, and racerunners. The last snake found before hiking back to the car was this pretty little juvenile Great Plains rat snake.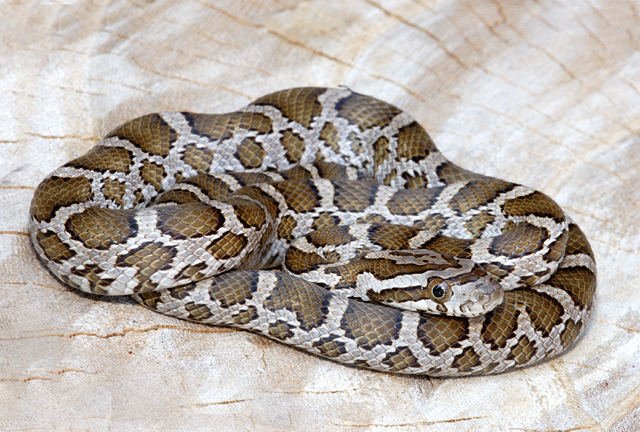 After returning to the car and looking at the map we discovered that the road cut directly through a small glade that was just ahead. We decided to check it out and were rewarded with this fine osage Ryan found under a rock.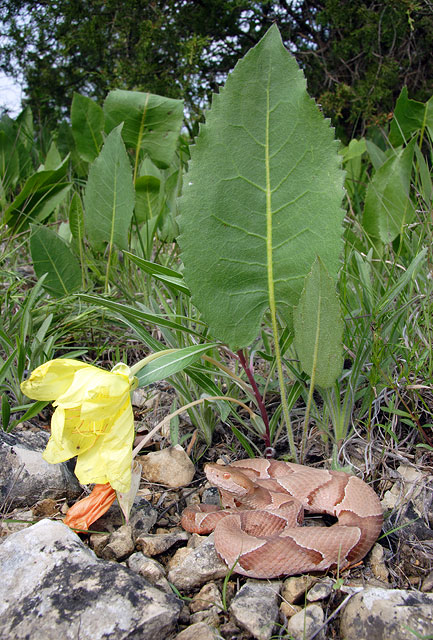 Ryan and family headed for home but Brian and I stayed on for a bit of road cruising. Although conditions were seemingly perfect for snake movement all we managed to drive up that evening was a couple more copperheads.

The relatively short drive from home and the abundance of great habitat assures that I'll make it back to this area next year (or sooner); and who know maybe I'll even get the chance to confirm that the northern scarlet snake still resides within Missouri.