I just returned from a trip to north Florida. This trip was actually a vacation to Panama City Beach with some friends but I manage to get in some time in the field as well. The first couple of days were spent swimming and snorkeling with friends around the Panama City Beach area. On one of these days we took a ferry to Shell Island and did some kayaking and snorkeling around the island. This led to one of my most exciting finds of the whole trip. Before leaving home I made it a point to study the diagnostic field marks of all the Atlantic sea turtles, just in case. As it turns out I'm glad I did; while snorkeling around a rock jetty looking at fish, crabs, and other sea life I pulled myself over a large rock to see just below me a half grown sea turtle. It was unbelievable bright, in contrast to all the rocks around it. I immediately cued in on the two elongated pre-frontal plates on the top of the head that are diagnostic to the Atlantic Green Turtle. Just a moment later it starting to move off, wanting my friend to see it I made a pathetic attempt to grab it. With just a single push from its rudder like flippers it was off like lightning, leaving me feeling ridiculous for even trying.
For the next couple of days I split from the group and headed east for a return visit to the Apalachicola National Forest. The very first morning in the forest turned up this rather emaciated Florida Cottonmouth crossing a sand road.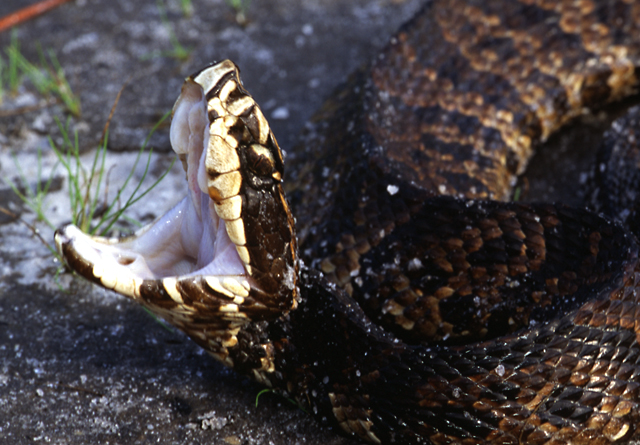 Later in the morning I was lucky enough to score another lifer, a Brown water Snake. This giant snake was seen basking in some rocks off a bridge. Unfortunately there was no easy way of making it down to the snake's level for a photo. Later in the day Sean Belanger, an expert on the snakes of the forest and all around nice guy agreed to meet up for some field herping. Right off the bat we found a beautiful Brown-chinned Racer that I would have liked to photographed if I had not left my flash back in my car. Later on while looking around a dilapidated old building Sean pointed out a frog that turned out to be new species for me, a River Frog. Although we herped many great spots throughout the evening that Sean was generous enough to share with me no live snakes other than racers and a garter were turned up the rest of the day. We did come across three DOR would-be lifers for me: a Grey Rat Snake, an Eastern Mud Snake, and a Northern Scarlet Snake.
The second morning in the forest found me back at the bridge with binoculars looking for more water snakes. As luck would have it I managed to spot another lifer, a Banded Water Snake. Again there was no way to capture the snake for a photograph. Later that morning a
neonate
Peninsula
ribbon Snake was found crossing the road but I passed on photographing this one in wasted hope for bigger game. Mid-day was spent trying to catch up on some sleep but between the relentless heat and the mosquitoes not much was had. That evening turned out a bit better finding three Banded Water Snakes crossing a short section of road. I bagged a juvenile and an adult for a daylight photo session the next day.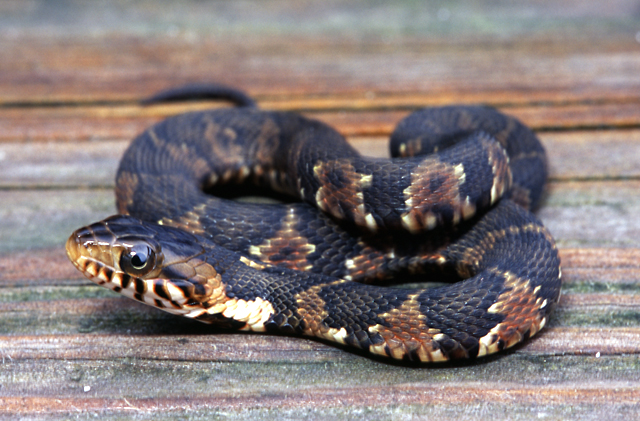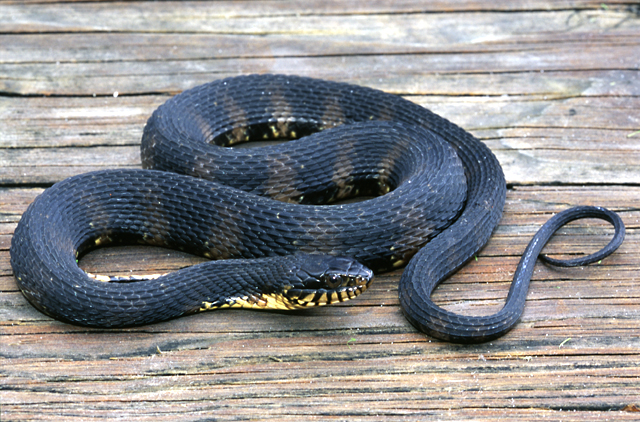 Soon after the water snakes I came across this large River Frog that I collected to photograph with the water snakes.
My third and last morning in the forest found me taking the water snakes and the frog back to their home turf and releasing them. Afterwards I did a bit more road cruising with no luck.
Back at Panama City Beach I opted for evening road cruising in the Pine Log National Forest; leaving my days open to spend with friends doing typical beach stuff like swimming, parasailing, and washing down raw oysters with cold beer. While indulging in these activities I still managed to come across a neonate Eastern Glass Lizard near a beach.
By now there was a full moon out leaving the hour in-between day and night the only productive hour of the evening for road hunting. My first evening drive produced a nice looking Florida Cottonmouth that I passed on wrangling for a photograph due to being in a rough looking, back woods, neighborhood and not wanting to draw attention to myself or the snake. Soon after that I came across the biggest heartbreaker of the trip a freshly run over Southern Hognose Snake. I would have given up all the other snakes found on this trip for just a look at that hognose alive and well.
The next evening there was a bit more snake movement. Right away I came across this Dusky Pygmy that had no other pigment other than shades in-between black and white. I don't know if this is common among pygs in the area but the three other DORs I found in this area all had a red/orange stripe running the length of their backs.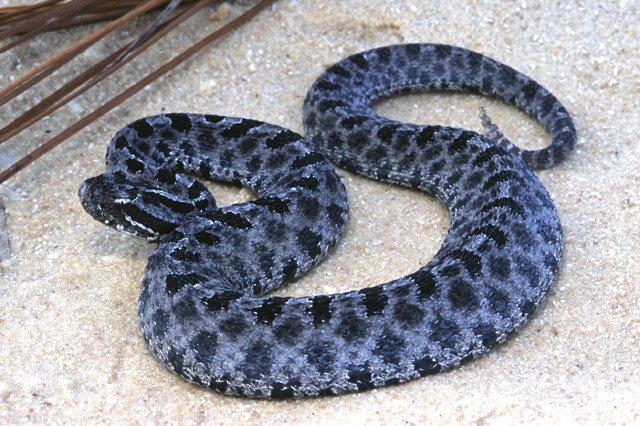 This evening I also found two more Banded Water Snakes and two eastern Garter Snakes. Frogs were on the move and calling everywhere due to some rain earlier in the day. All the different species of Hyla the area offered were easy to locate except the one I really wanted to and had not seen, the Barking Tree Frog. There were Green Tree Frogs, Grey Tree Frogs, Pine Woods Tree Frogs, Squirrel Tree Frogs, Bird-voiced Tree Frogs, plus Florida Cricket Frogs and Eastern Narrow-mouthed Toads. Finally late in the evening I here a group of Barking Tree Frogs far off in the forest. It was getting late and I was not up to searching threw a dark unfamiliar forest alone so I took hearing them to be enough and headed home.
My last evening road hunt of the trip found me this nice Florida Cotton Mouth that I bagged for a photograph the next morning.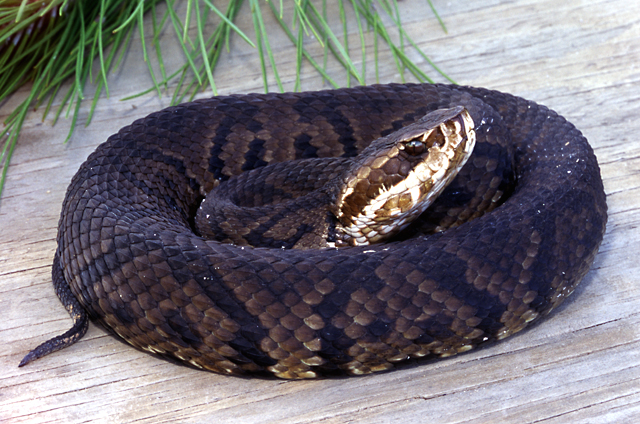 I also picked up this little Eastern Garter Snake for a photo due to their marked differences from
Missouri
specimens.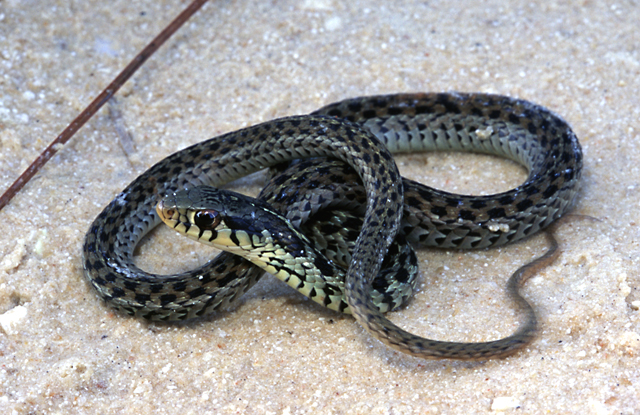 Unfortunately I got the unwanted opportunity to see two would-be lifers dying on the road as well. The first was a juvenile Glossy Crayfish Snake that gave its last twitches in my hand and then a little later an Eastern Ribbon Snake that the car directly in front of me hit. But all was not lost A bit later in the night I finally caught the unmistakable form of my Barking Tree Frog in the headlights.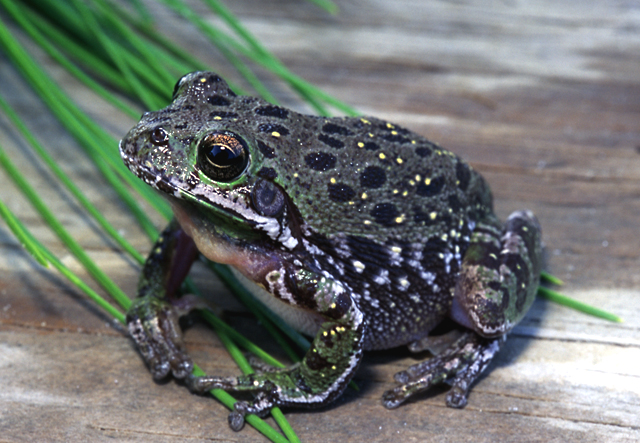 We had to be checked out of our room the next morning by but I had a cottonmouth, a garter, and a frog that needed to be photographed and released so I was up at the next morning and headed back to the forest. After photographing and releasing the herps from the night before I came across the last lifer of the trip, a Florida Red-bellied Snake. It was a beautiful snake but I was already running late for check out time so I sent it on its way without a photo.
Since this is pretty much the worst time of year for herping in the southeast I'm pleased with the results of this trip. I added eight lifers to my list.
Also, I'd like to say thanks to Sean for showing me around his forest.