I didn't get all that much field tripping in this summer due to a busy schedule with summer classes and work but, looking back now, I can see that it wasn't all that bad.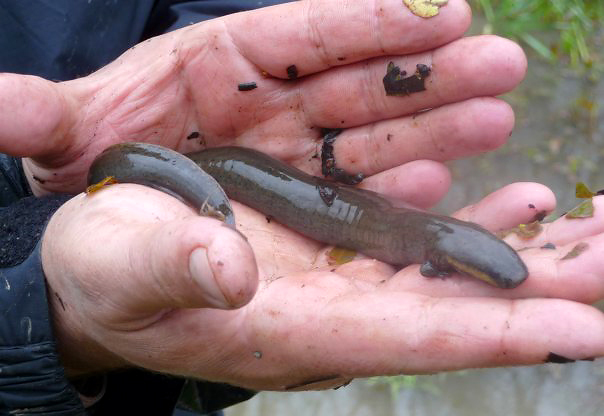 One cool, gray, and wet day early this spring a friend and I had planned on doing a little paddling on Monopoly Marsh at Mingo NWR. On the way to our destination I couldn't resist dip netting for some crayfish in the flooded roadside ditches. This siren was bonus for our efforts.
On another early spring day, I met up with Richard Daniel and Brian Edmond, of the Missouri Herpetological Atlas Project, to try and locate the newly described Cajun chorus frog in the southeast Missouri Ozarks. The frogs were not calling but we did flip a few salamanders, including this cave salamander.
Attending school in southeast Missouri has allowed me easy access to the northern limit of the Mississippi embayment and its assemblage of crayfish species. A couple of new species I found but failed to take pictures of were the Shawnee crayfish and the papershell crayfish.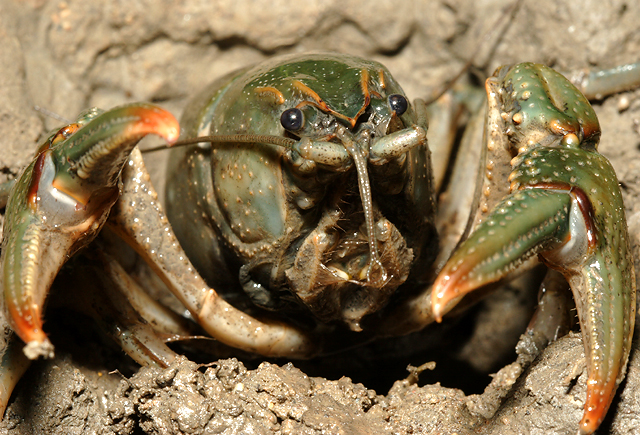 A devil crayfish at the entrance of its burrow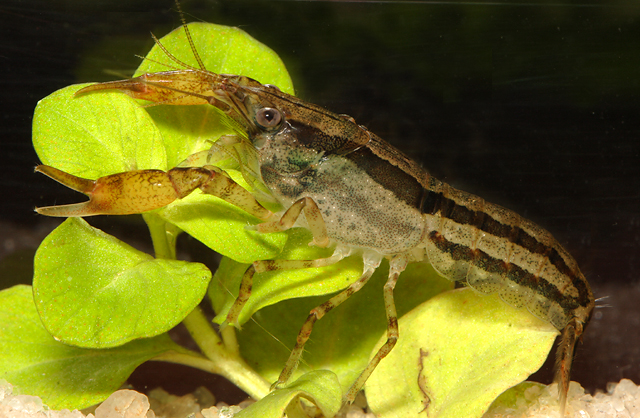 The striped phase of the tiny Shufeldt's dwarf crayfish
A painted devil crayfish defending its burrow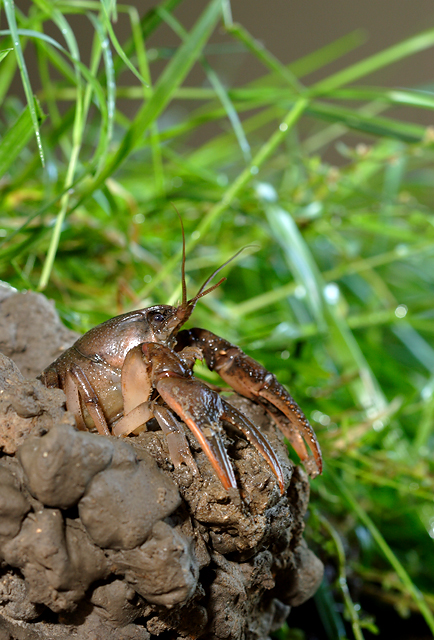 A digger crayfish at the entrance of its burrow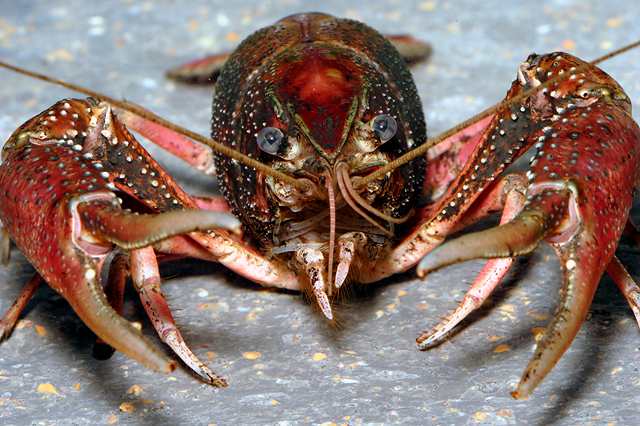 The red swamp crayfish was the most abundant species encountered over the summer.
One day, on my ride home from work, I stopped to glass some muddy fields for shore birds when I noticed hundreds of crayfish seemingly trying to leave the receding water and establish burrows along a bank. This was an opportunity worth exploiting, so I called my friend Chris and asked if he was up for a crayfish boil. Within forty-five minutes we had collected our legal limit without putting a dent in the population.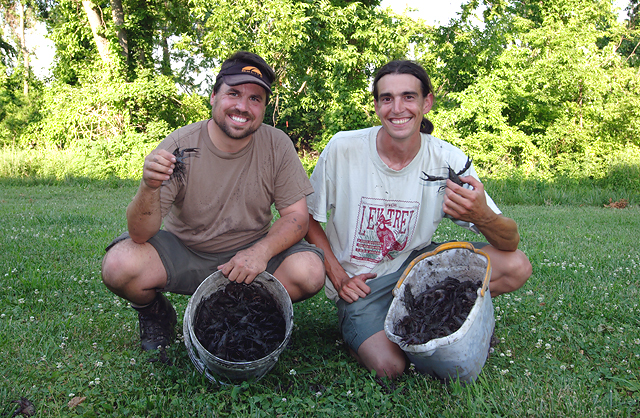 Chris and I with our catch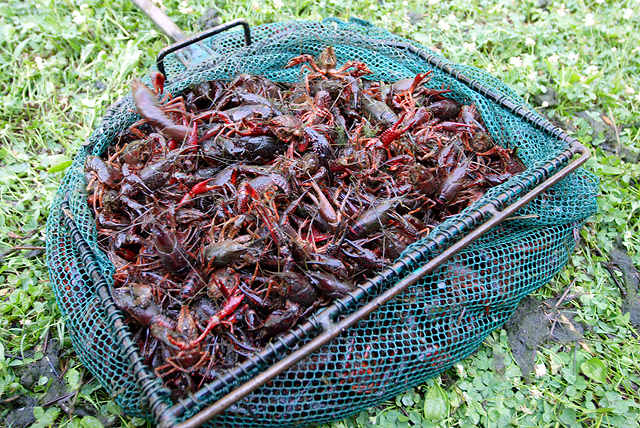 The vast majority of our catch consisted of Procambarus clarkii, the red swamp crayfish with just a few Procambarus acutus, the White River crayfish.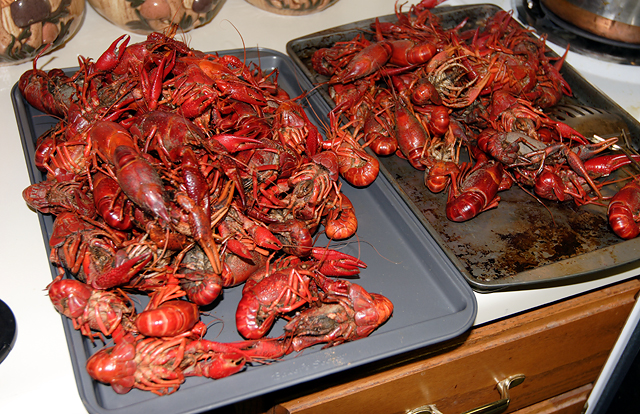 Just the first round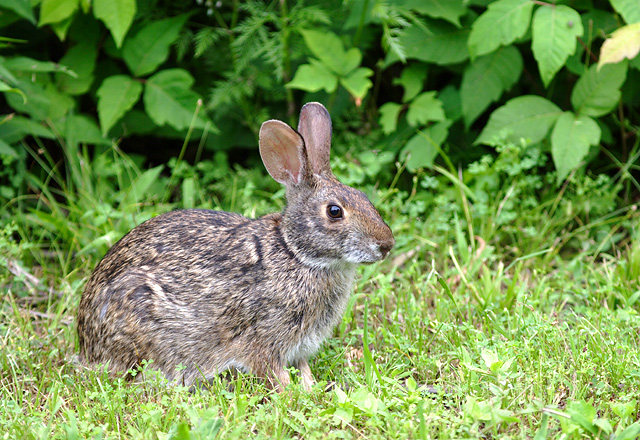 I had a great summer job that kept me involved with many research projects. Most of this time was spent working in a remnant bottomland forest and swamp that allowed me the opportunity to see and photograph swamp rabbits.
I also assisted in Mead's milkweed surveys that got me back into the Ozarks.
Missouri's tallest waterfall, Mina Sauk Falls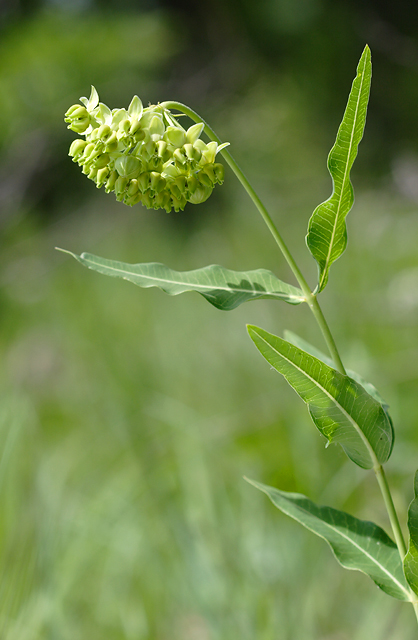 The Federally endangered Mead's milkweed
I also had the good fortune to spend some time assisting with vegetative monitoring in a prairie in the western part of the state.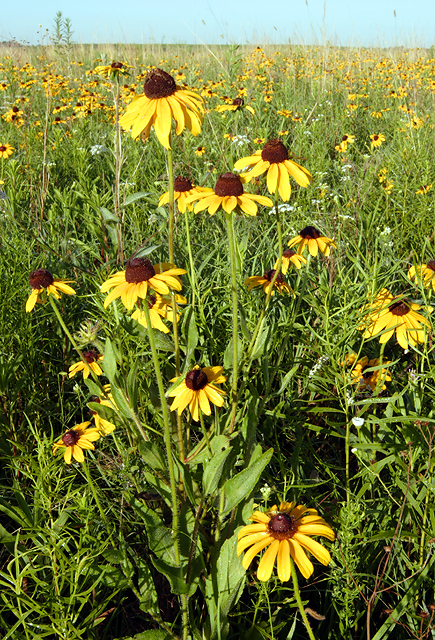 Black-eyed Suzans on the prairie
There was one particular crayfish I was hoping to see on the prairie, Procambarus gracilis, the grassland crayfish. This species is a primary burrower and during dry conditions (like those during my visit) their burrows can go extremely deep within the earth. This is a particularly interesting species because it provides a blaring example of convergent evolution. Most of the species within the grassland crayfish's genus, Procambarus, spend most of their life in open water and their similar morphologies reflect that. The grassland crayfish is an exception though, to the ill-informed eye, it looks exactly like it should belong in one of the genera that contain most of the other primary burrowing species like Cambarus or Follicambarus. These morphological similarities don't come from close kinship but, rather convergent evolution driven by similar burrowing lifestyles. Extensive searching finally led me to a small burrow on a creek bank. From this burrow, I managed to excavate a juvenile grassland crayfish but, it was small and not worth photographing.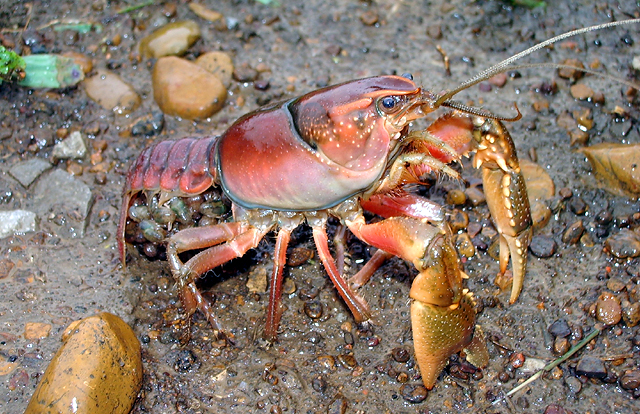 Because my crayfish wasn't worth photographing, a friend lent me a photo of one from the same area. On rainy day these crayfish will move about on land as this female with babies was caught doing. Photo by Chris Crabtree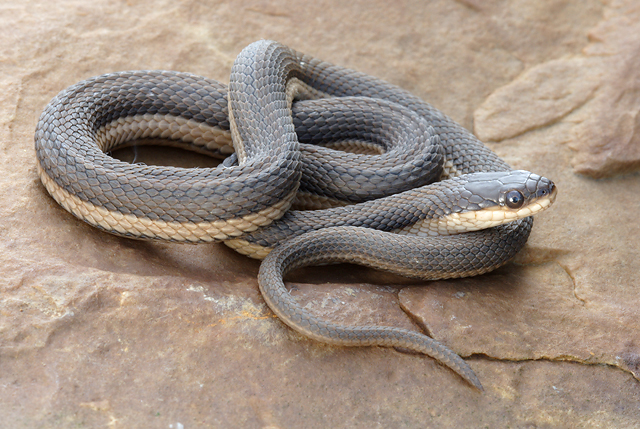 This Gram's crayfish snake was an unexpected surprise on the prairie.
After my time on the prairie, I took a couple of extra days to do some field tripping in the southwestern part of the state before heading home. There were a few species of crayfish and a couple of salamanders I hoped to see. Of these, I found most of what I was looking for, but due to time constraints I either took crummy photos of them or none at all. One that I really regret not photographing was a large gorgeous form 1 Meek's crayfish I found in northern Arkansas.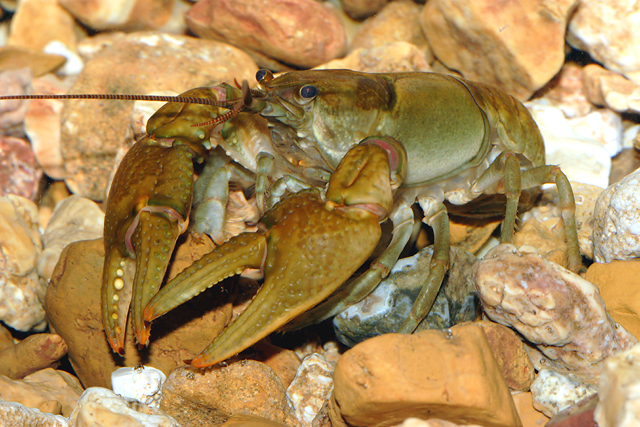 A Williams' crayfish from the
White River
drainage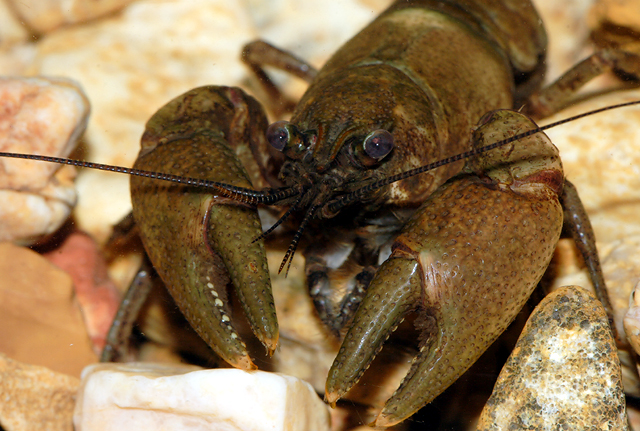 The little Neosho crayfish from the Neosho drainage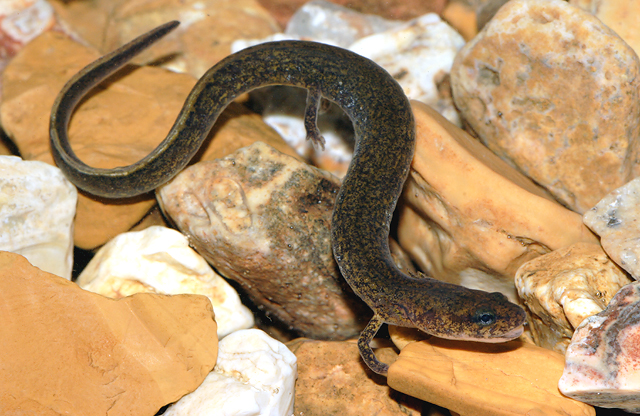 I have spent some time searching for Oklahoma salamanders before with no success. On this trip, I discovered that I had been searching in the wrong way. In Missouri, Oklahoma salamanders are neotenic (they spend their entire life in an aquatic form) and live in clear streams in the western Ozarks. I knew they were supposed to be common in the stream I was searching but, I was having no luck. That is, until it occurred to me that the rocks I was turning would be no place for a tiny aquatic salamander to hide under. The rocks I was turning exposed various fish, crayfish, and predatory insects, all things that would be happy to prey on a little Oklahoma salamander. I'm not proud that it took me so long to figure this out, but once I did, and changed my approach, I started finding the salamanders in abundance. Simply raking my fingers through stream gravel would send many of them quickly wiggling for cover deep within their unusual niche in the river gravel.
I'm planning to spend much more time learning about, and to identify, our native flora; this summer I got a decent start.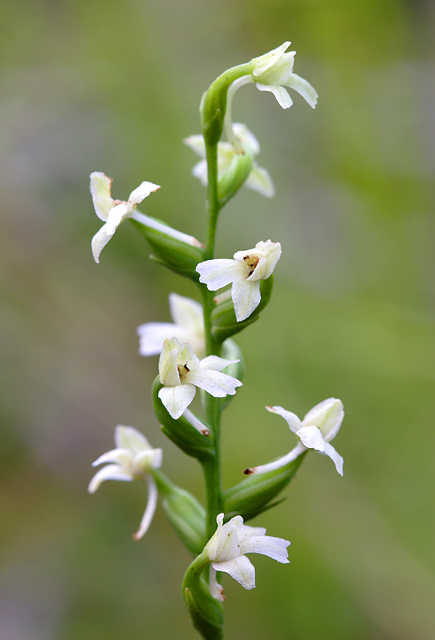 I quickly fell for the orchids, from this simple green wood orchid…
…to this beautiful yellow-fringed orchid
A single flower from the above orchid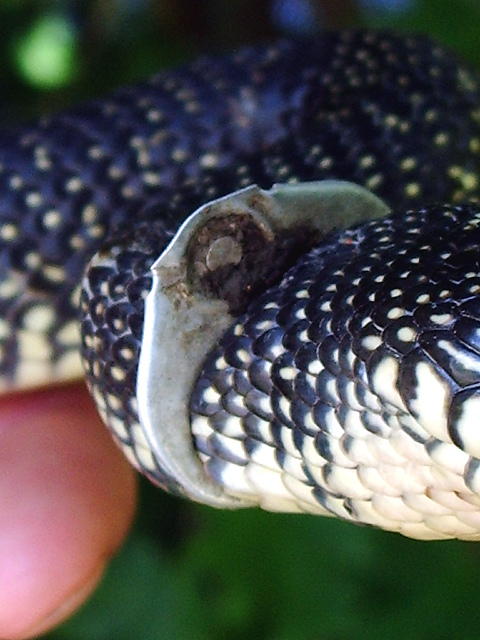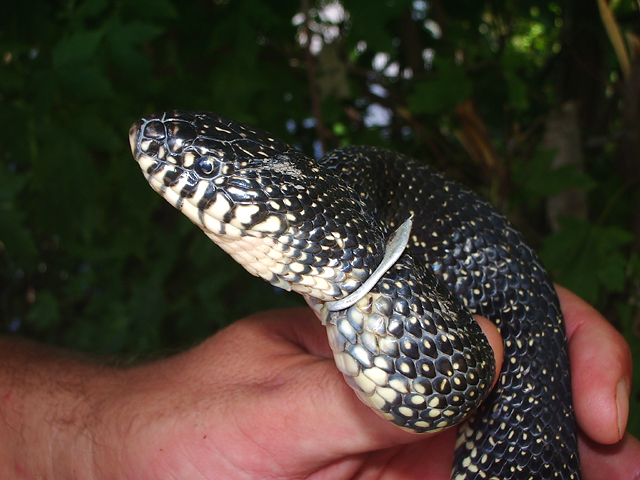 One July day at work, while collecting dragonflies, I noticed this getula sunning on a bank next to a swamp. I picked him up and immediately became aware of a beverage can tab caught around his neck. He was a large snake and of good weight, but the tab had obviously been in place for some time. I'm not sure how he managed to get any kind of decent sized meal through the tab but he was apparently doing ok for the time. My boss and I took him back to the office and cut the tab free. As soon as the tab came off an audible gurgling rush of air was taken in by the snake that seemed to say thanks. We then took him back to where we found him and watched him crawl away.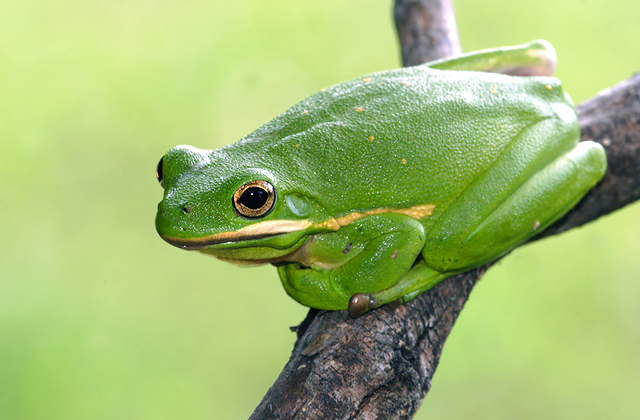 This green treefrog is likely the last photo I took during the summer season. They're always a treat to see.
In the off chance that anyone hasn't seen enough crayfish yet, the following is a series of species and some of their habitats, from a crayfish survey I completed over the summer: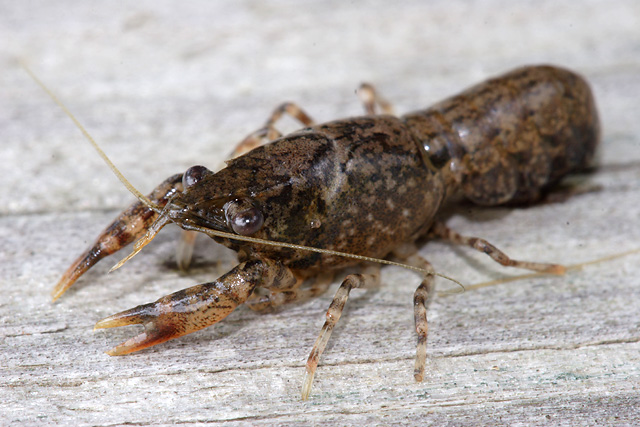 Schufeldt's dwarf crayfish (mottled phase) Cambarellus schufeldtii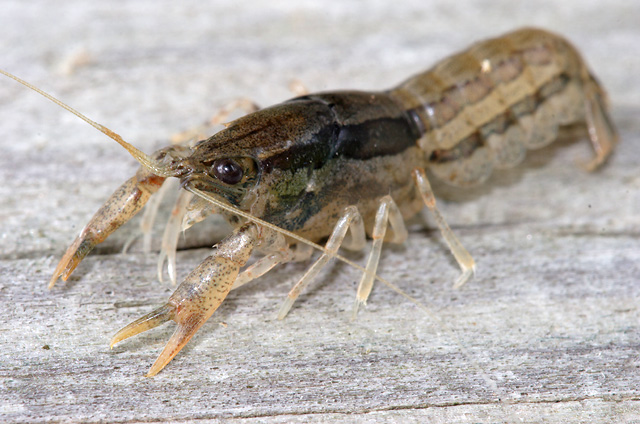 Schufeldt's dwarf crayfish (striped phase) Cambarellus schufeldtii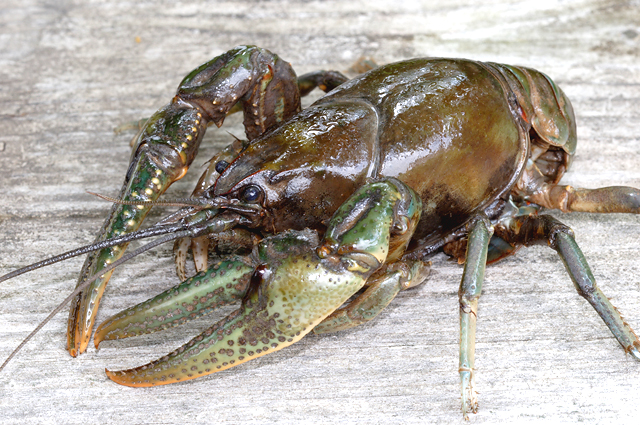 Devil crayfish Cambarus diogenes
Painted devil crayfish Cambarus ludovicianus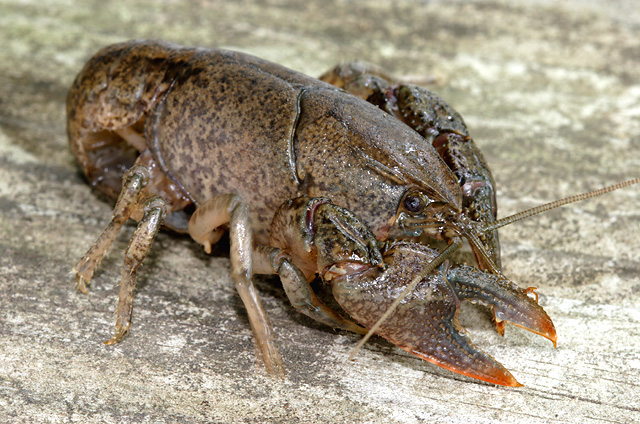 Digger crayfish Fallicambarus fodiens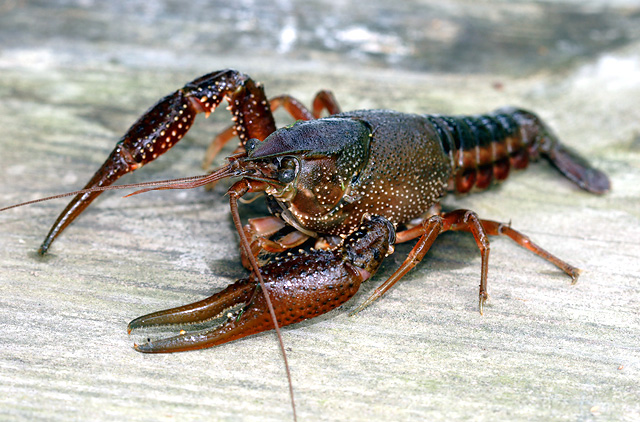 White river crayfish Procambarus acutus
Red swamp crayfish Procambarus clarkii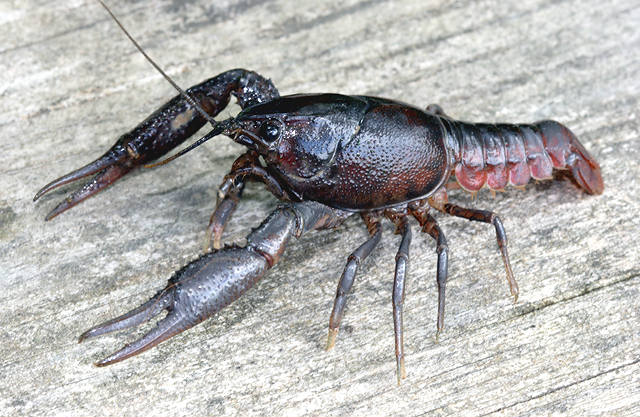 Vernal crayfish Procambarus viaeviridus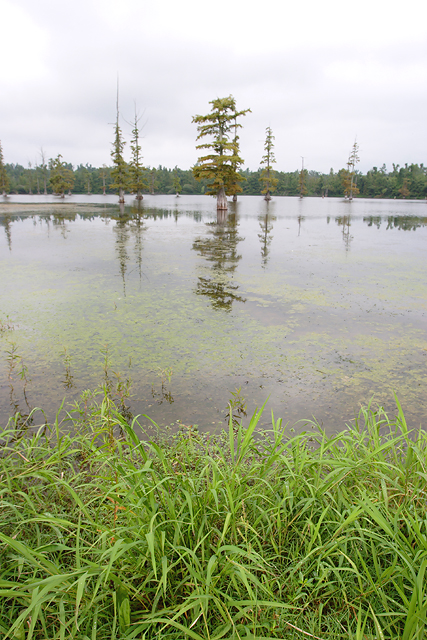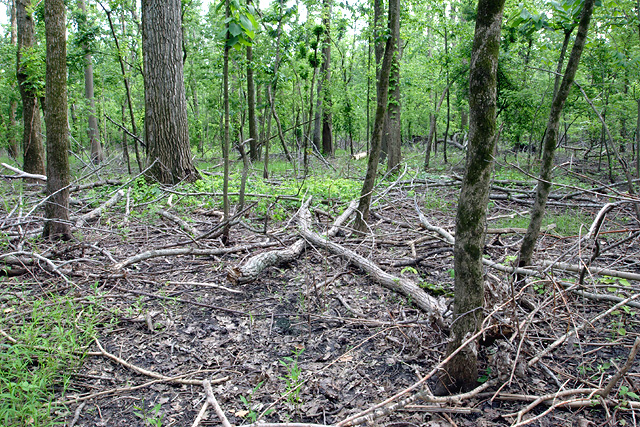 Bottomland hardwood forest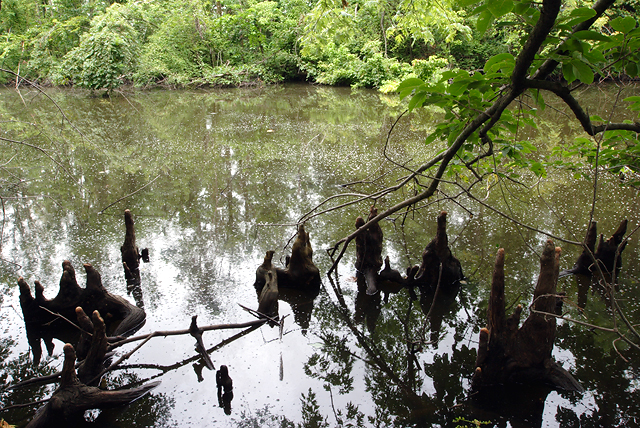 Cypress swamp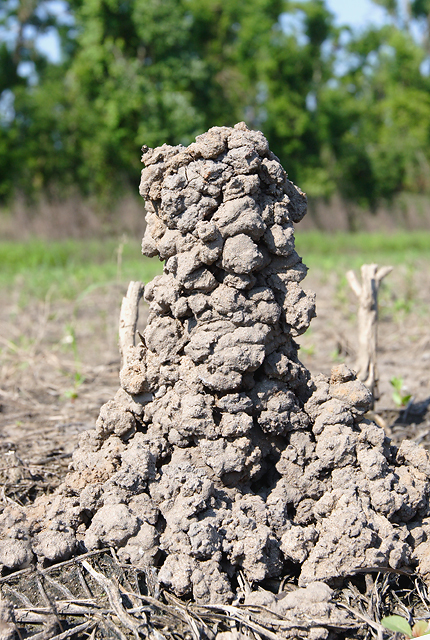 Chimney at a burrow entrance