Missouri winters are tough. Cold, wet, grey weather doesn't set well with an amateur herpetologist. No better time to head south.

This winter our group was made up of my buddy Brian Scheidt, his dog Trevor, myself, and my dog Quinn. Our plan was to take off Christmas evening and keep driving until the temperatures got a great deal higher.

Our first stop was near the southern end of the Lake Wales Ridge. These ancient islands are home to some stunning wildlife; some of which can't be found anywhere else in the world.

Having been cooped up in the car for far too many hours, our whole group was ready to get out and stretch their legs. A promising looking set of railroad tracks seemed as good a place to start as any. Not ten feet from the car I flipped my first lifer, a tropical house gecko. This little gecko is native to tropical Africa and has apparently been living and breeding in south Florida for almost twenty years.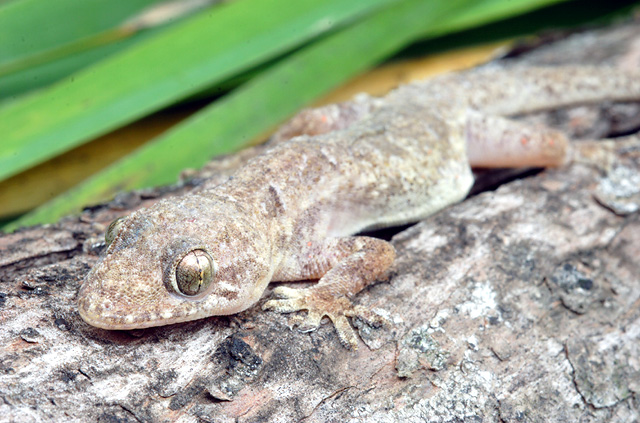 Further down the tracks, I turned a discarded tie and somehow missed the brightly colored coils of this, rather emaciated looking, scarlet king snake; luckily, Brian was there to point it out.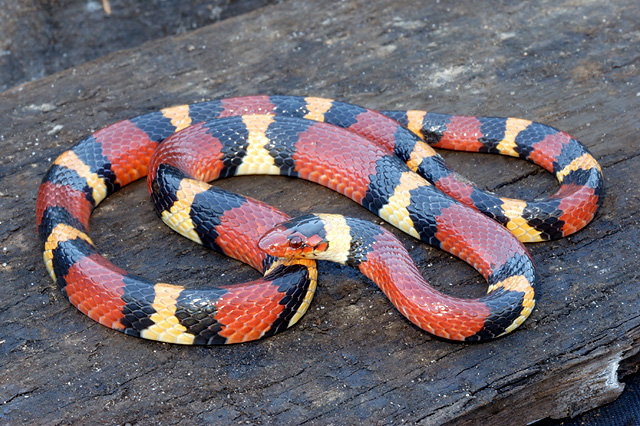 Next to the fire ants, these non-native brown anoles would be the most abundant critter encountered for the rest of the trip.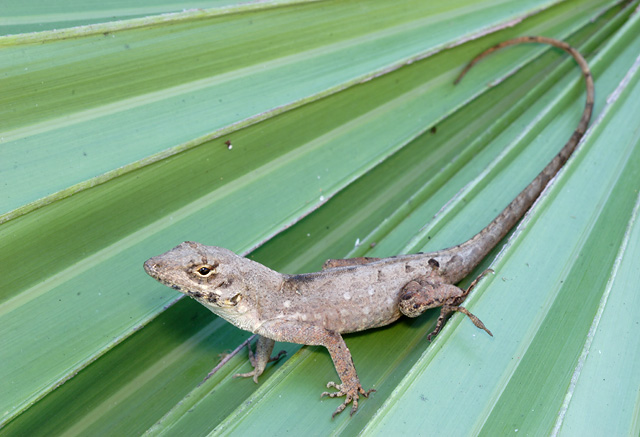 Turning another tie reviled this little peninsular crowned snake.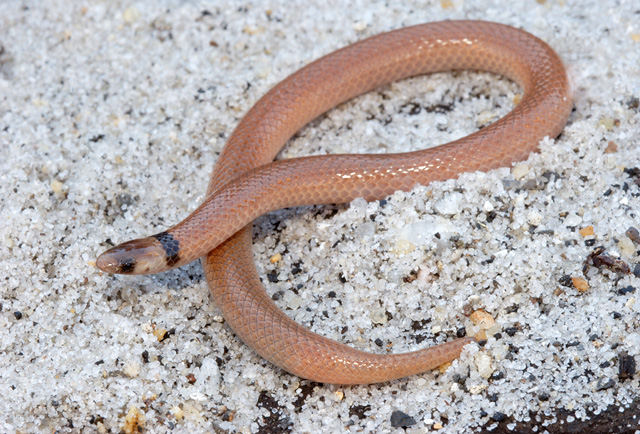 At this point, I knew I was in good indigo habitat but I wanted to know exactly where to start looking. Thanks to Florida resident herpers, Daniel Parker (Mudsnake6) and Mike Rochford (MikeyFresh), a couple quick phone calls set me on the right track. This isn't meant to mean it was going to be easy, although I was hoping it was going to be, I knew better. I had spent three full days searching to see an indigo in Georgia back in the spring of 2005 and ended up skunked. Then, last winter, I spent a week herping within range of the Texas variety and again was skunked.

The rest of the warm part of the day was spent road hunting prime indigo habitat without seeing a thing. When things cooled off we went to another area and flipped some trash where we lost a good looking coachwhip, but did get our hands on a few of these little greenhouse frogs. These guys are native to Cuba; their ability to lay, fully developed froglet producing, eggs on land has allowed them to spread through many different habitats throughout the south.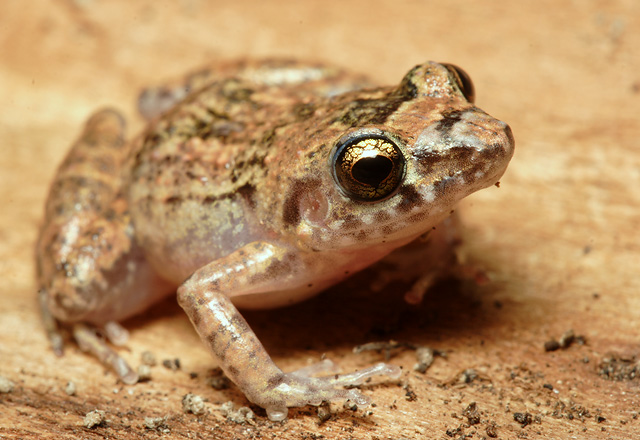 We still had a day to kill before we had to head further south where we were to meet up with Anthony (Ant Man) for some cane field kingsnake hunting. At my suggestion, Brian agreed to stay in the scrub and give the indigos another try. This was pretty decent of him considering that while he enjoys wildlife, it's not exactly his passion. Plus, driving through the same habitat over and over again, from morning through evening, not seeing anything but the occasional tortoise, isn't what any normal person would want to spend their vacation doing.

After an uncomfortable night of sleeping in the car at a local grocer's parking lot, we decided to take the cool part of the morning and try to find a scrub jay. This didn't take long and was a real treat to get to see this endemic scrub inhabitant. Now, rejuvenated by our success of quickly finding our scrub jay we were off after the indigo again. After about four hours of driving, without seeing a thing, our patience were starting to run a little thin. About this time, Anthony calls and assures us that we're in the right spot, at the right time, and conditions were perfect. This was enough to raise our spirits some and see us through the rest of the day, regardless though, no indigos were seen.

That same evening we headed down to the southern end of Lake Okeechobee where we were to meet Anthony the next morning. I had been reading about hunting the sugarcane fields for years and was really looking forward to this part of the trip. We made it with just enough light to get out and flip a little cover.

This squirrel tree frog was found amongst a piled up tarp.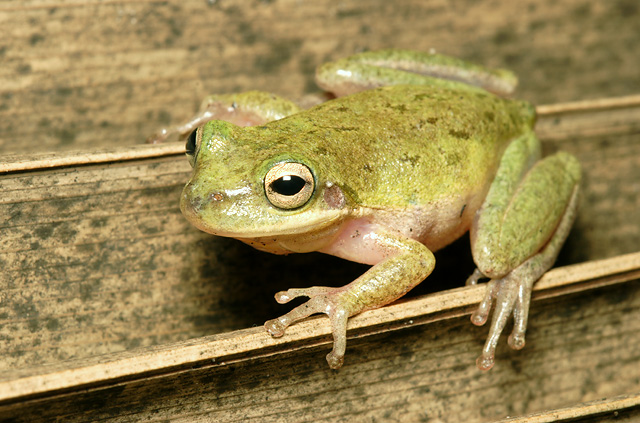 Three of these scorpions were found within the same area under some railroad ties. No one seemed to have a name for them, or had seen them before, so if anyone could help with an ID, I'd appreciate it. They were pretty good sized, around three inches with the tail curled up.
*Note* The scorpion pictured below has been identified as a Florida bark scorpion, Centruroides gracilis.
The next morning we met up with Anthony at the McDonalds in Clewiston, the sugarcane epicenter of Florida. Anthony turned out to be the perfect guide, his knowledge of the area allowed us to go from one great flipping site to another. It didn't take us long to start finding snakes. While stopping to check a carpet set, I flipped a railroad tie to reveal two dusty pigmy rattlesnakes. Here's one of them posed on a palmetto.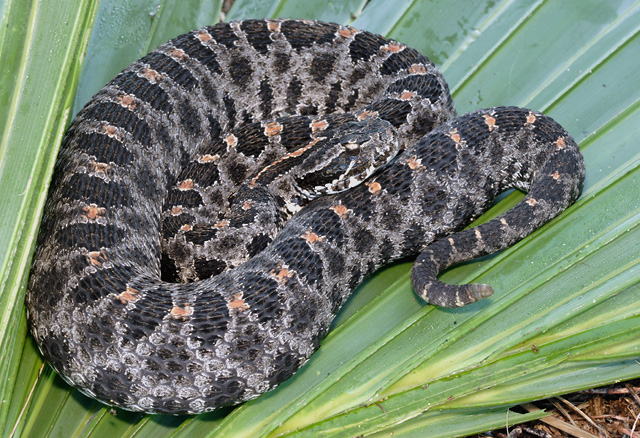 At the next spot I flipped this hefty brown watersnak along a canal.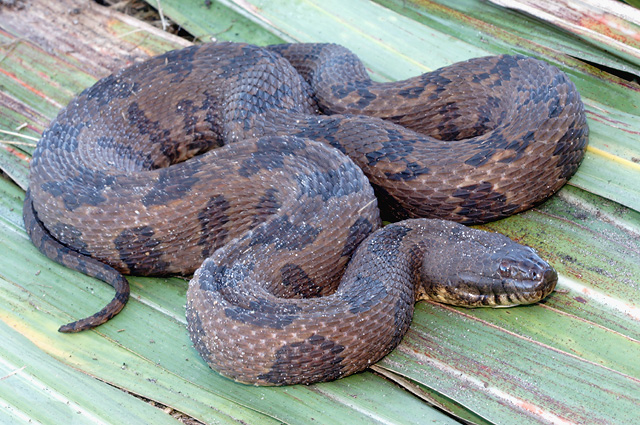 While I was shooting the watersnake Anthony and Brian kept hunting and soon returned with this not-so-beautiful and skinny Florida kingsnake. Regardless of its true physical appearance, it was beautiful to me!
While I was photographing the kingsnake, Anthony calls out and asked if I'd like to shoot a cottonmouth while I was at it.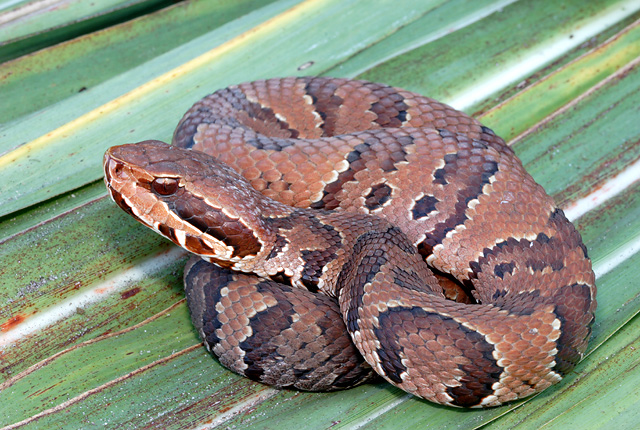 Later on, while driving along a canal, we stopped to turn a discarded door along the side of the road and found this pretty young king.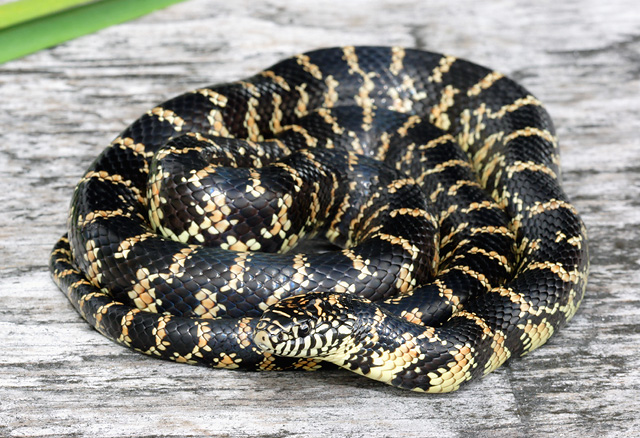 Our guide, Anthony, with the day's kingsnakes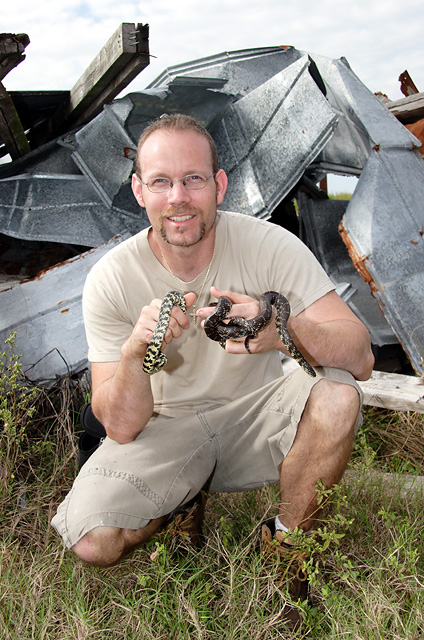 Another spot produced this Everglades racer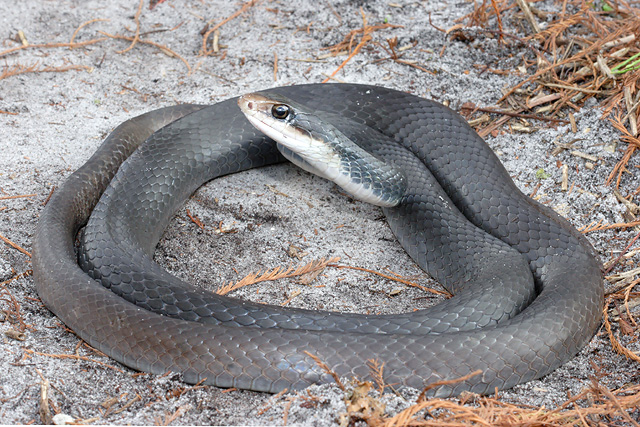 At the same spot as the above racer was found, a very fresh large kingsnake shed was found, as well as two more pigmys that didn't get their pictures taken.

One of my favorite finds of the trip was stretched out along the branch of an Australian Fir. This everglades rat snake almost seemed to glow against the backdrop of the dark green needles.


Anthony was kind enough to invite us to stay with him and his wife that evening at their home in Hollywood. We wasted no time in accepting his offer and planned on stopping along the way and try to pick up a brahminy blind snake. Right as the sun was setting we made it to the site and quickly flipped a few of these odd little snakes under some trash. This is another non-native that is thought to originate from Asia. Its ability to live in close proximity with humans along with its parthenogenetic (all female) mode of reproduction has made it the most wide-spread terrestrial snake species in the world.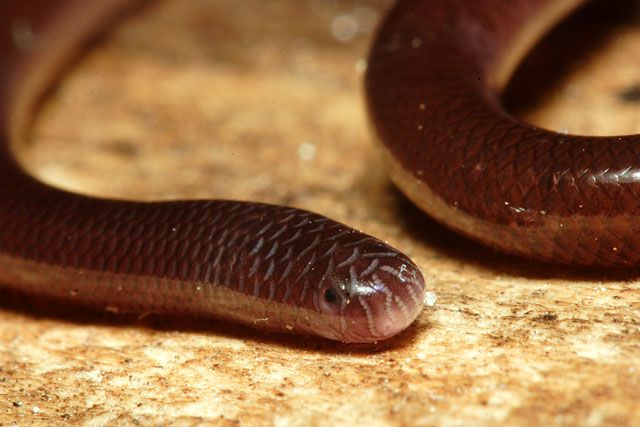 That evening, after going out for some good food and conversation, we took up flashlights and headed into the neighborhood in search of tokay geckos. It just so happens that the neighborhood we were hunting is the same neighborhood that the reptile and amphibian importer Strictly Reptiles is located. This neighborhood has become a sort of hot bed of exotic reptiles and amphibians. This was proven to us as soon as we stepped out of the car and saw this frog. I'm at a complete loss as to what this is, so if anyone is familiar with this thing, please let me know what it is.
*Note* It's come to my attention that the frog pictured below is a Malaysian painted frog, Kaloula pulchra.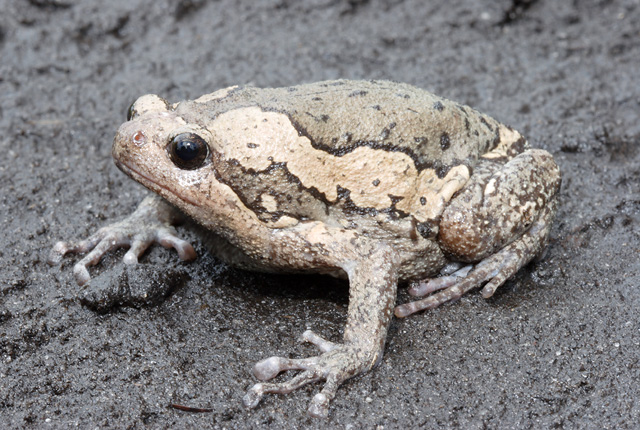 After our exotic frog encounter we headed down the sidewalk looking for geckos, to our surprise, we ran into a couple other guys with flashlights. Those guys turned to be Mike Rochford and Alex, they were out doing the same thing we were. Between the five of us, it didn't take us long to find a few geckos. We bagged this one to photograph in the morning.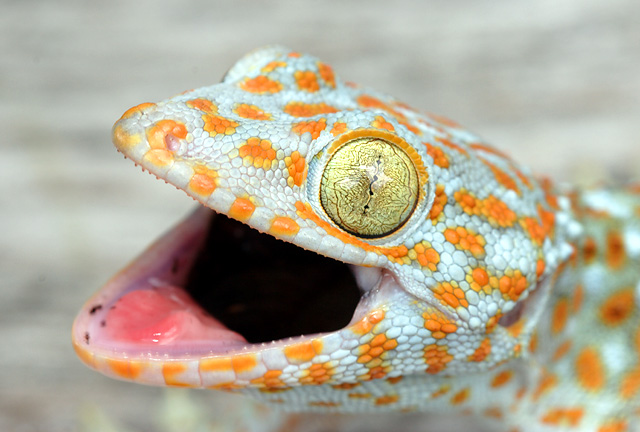 Back at Anthony's, we made plans to take in a few more of the areas exotics the next day before hitting the sack.

First thing in the morning we were greeted by a group of green iguanas and a single male black spiny-tailed iguana that call Anthony's backyard home. The rest of the morning was spent hitting localities like Dunkin' Donuts for rainbow whiptails and northern curly-tailed lizards, then, a used car lot for redhead agamas. Driving along the streets, you could see big night anoles perched upside down on the trunks of trees. This is a species I remember looking at in books as a child and daydreaming about catching them.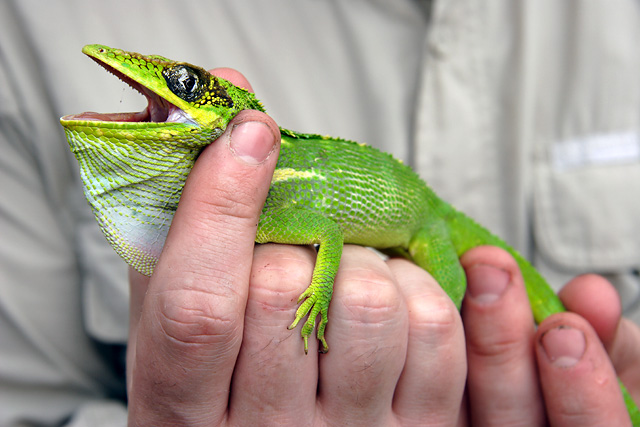 Here's Brian with a brown basilisk, or Jesus lizard, that was captured along a canal.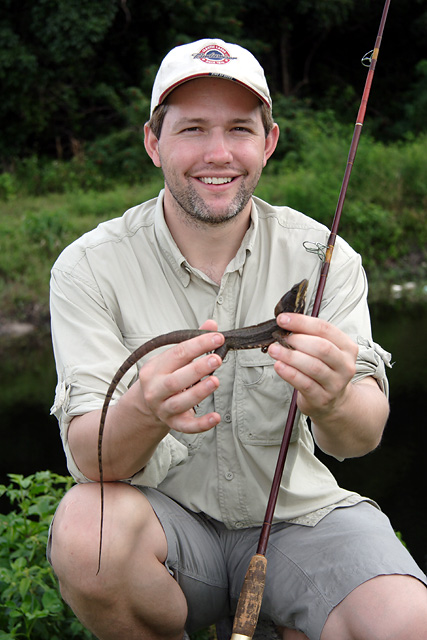 Our next stop was Key Biscayne, The site of an abandoned zoo, turned park, which is dominated by breeding populations of the zoo's exotics lizards. We did not originally plan on visiting the key so I didn't bother educating myself on the keys inhabitants, namely the anoles. This, combined with the short amount of time we had to visit, made it difficult to fully take advantage of the key; although, I did walk away with some decent iguana photos and a handful of lifers. I'll certainly make a return trip next year and take more time to see and photograph all of the keys inhabitants.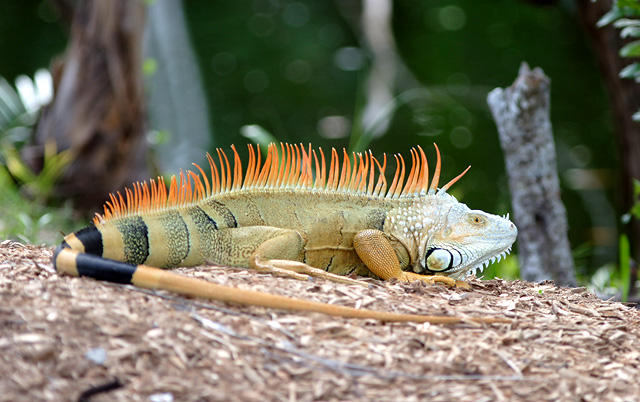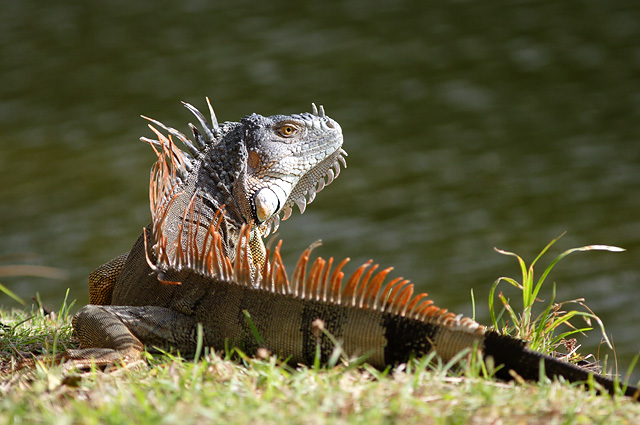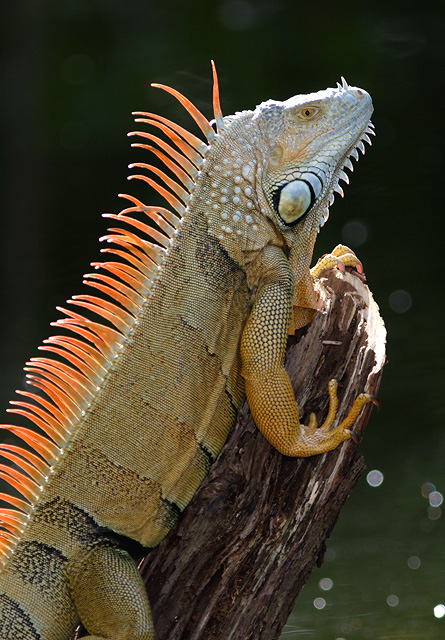 It was time to say goodbye to Anthony and his wife; I can't express enough thanks for the hospitality they showed us on our visit. Plus, I'd like to say thanks again to Anthony for taking the day off of work to show us some great wildlife.

Our next stop was Everglades National Park where we were to meet up with Mike Rochford, Alex, and another Alex for some nighttime road cruising. We had hopes of seeing one of south Florida's most famous exotics, the Burmese python. While the thought seeing a large python in the wild was obviously exciting, taking pleasure in the search made me feel a little guilty, considering the ecological damage that may be brought forth by this exotic. In the end we didn't get to see a python but did get to see something just as good. We were driving along behind Mike's van when he pulled aside for this gorgeous Brooks phase kingsnake.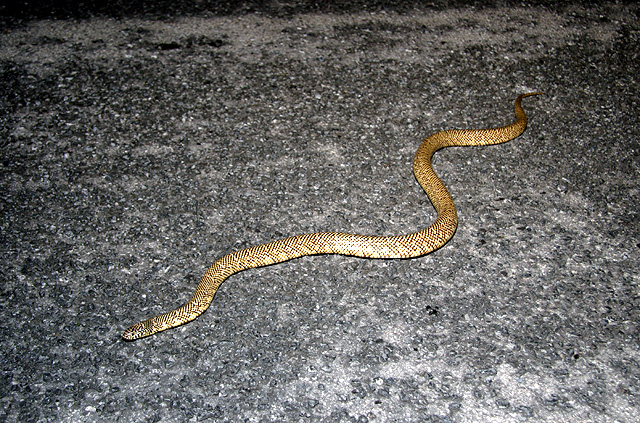 A group shot of Mike, Alex, and Alex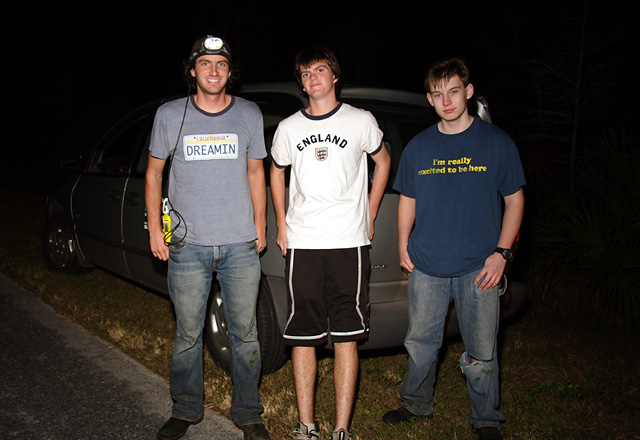 Later that evening, outside of the park, we ran across this nice looking mangrove water snake...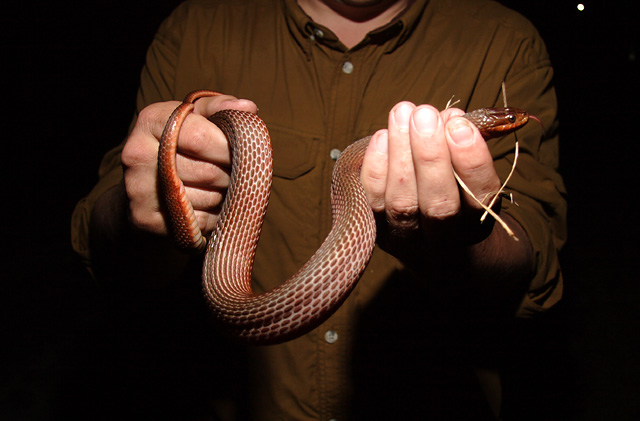 ...and this big eastern mud snake. I had seen this subspecies dead on the road on many occasions before but this was my first live one.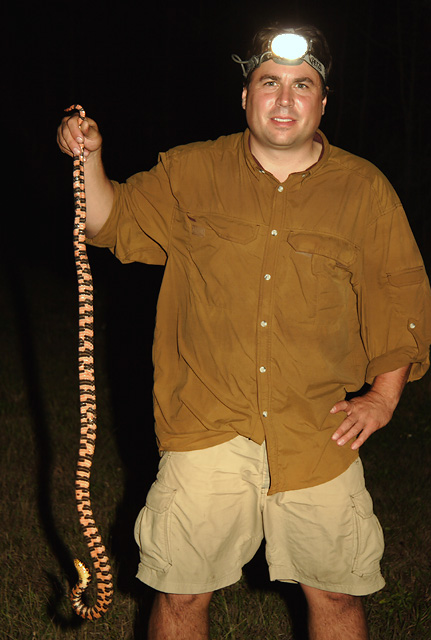 That night we drove back down to Flamingo and slept in the car. As usual, Brian was up well before me and left for a walk. Upon his return, he woke me up and said that there was an American crocodile down at the marina. This was a must see species for me on this trip so I was out of bed and on my way to the marina in no time. Unfortunately, low light and choppy water made for poor photography conditions so I skipped the opportunity. Before leaving the park we stopped off and took a walk down Anhinga Trail where there were plenty of American alligators.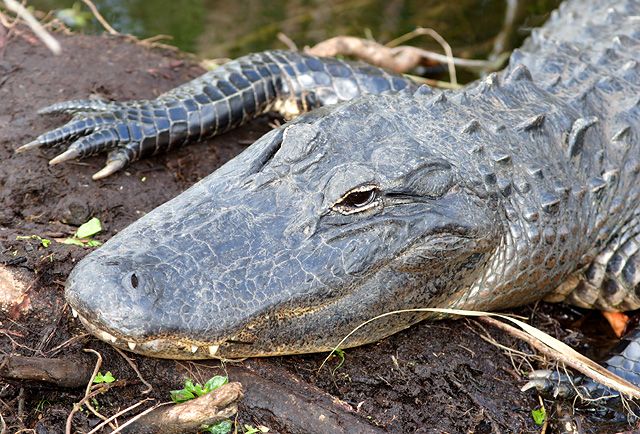 We had plans to meet up with a friend of mine John Lawlor, who lives in Fort Myers, to bring in the New Year in the appropriate fashion. Heading across the state towards the gulf, we made a stop for another must see animal of the trip, the West Indian manatee. This wasn't too difficult due to some good directions from Anthony. I also kept an eye open for a snail kite along the way but had no luck with that one.

That evening John treated us to grilled sirloins and beers on his patio before heading out for the evening. The rest of that night was a blur of too many shots and cocktails so I'll refrain from trying to recap all the details here.

Despite the previous evening's activities, we still managed to get up, and out, at a decent hour the next morning. The plan was to head over to nearby Cape Coral to look for the invasive Nile monitor and the native burrowing owl. It turned out to be much better birding than herping that day. No monitors, one Florida green water snake (a lifer), and three life birds were found in Cape Coral. The three life birds were: ground doves, monk parakeets, and burrowing owls. When we left John's that morning I realized I had left my camera behind, I told Brian at the time that this was sure to mean there would be some fantastic photo opportunities throughout the day. Sure enough, I was right; the burrowing owls were extremely tame and perched, picture perfect, at the entrances of their burrows.

We left John a note thanking him for everything and headed north. Along the way we stopped off at Bill Love's home for a visit. After a tour of Bill and Cathy's captive herps, and some good conversation, we headed outside with flashlights and spotted Cuban tree frogs, a lifer for me, on the walls of Bill's house. Despite Bill's generous offer for us to stay the night, we headed for the Peace River so Brian could spend the next day fossil hunting.

The next day's original plan was to meet up with Bill Love, Daniel Parker, and Todd Pierson for another day back in the Lake Wales scrub. Due to cool overcast weather, it was decided that our time would be better spent in the cane fields; so, planswere made to meet up back at that same Clewiston McDonalds as before.

Unfortunately, Bill wasn't able to make the trip due to an old knee injury that was acting up; so, in hindsight, I was glad we took the time to pay him a visit the night before.

It was obvious Daniel was a seasoned cane field hunter by his knowledge of the area. He led us to some great flipping sites and by the end of the day we had scored two juvenile everglades rat snakes, a nice kingsnake, an eastern garter snake, a brown water snake, indo-pacific geckos, Cuban tree frogs, Florida red-bellied turtles, peninsula cooters, another manatee, and of coarse alligators. Here's Daniel with one of those gators...


...and Todd with that brown water snake.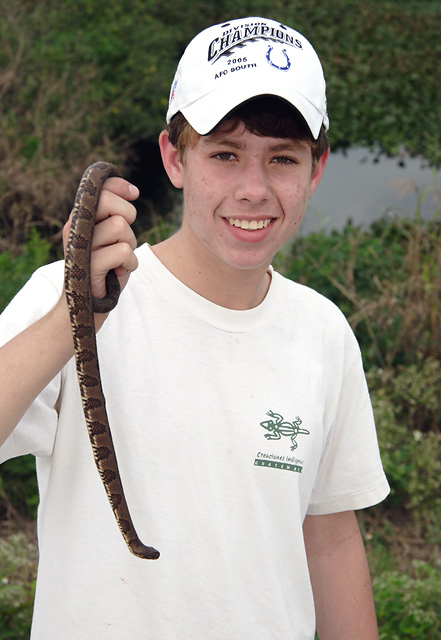 One of the Cuban tree frogs
Brian and I had both planned on spending the next couple of days fossil hunting the Peace River. But, considering that the Peace River was within an hour of the same indigo habitat that I had previously hunted unsuccessfully, meant that I had to forgo fossil hunting and try again.

That evening we moved a bit further up the river to camp. The next morning, I once again left Brian and Trevor and headed back into the scrub for another day of unsuccessful, mind numbing, road hunting.

Back at camp that evening, we figured we could spend one more day in the area before we needed to start making our way north, giving me one last shot at an indigo. The next morning, Brian decided to go ahead and join me in the scrub. We spent the cool morning hours photographing scrub jays.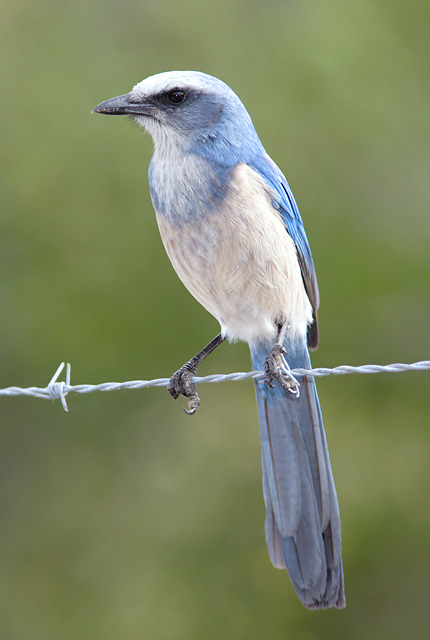 Most of the next day went pretty much like the past few I had spent in the habitat, lots of driving and no snakes. Around two in the afternoon I dropped Brian and Trevor off at a nearby state park so they could do some hiking. As I exited the park and turned the corner, there was no way not to notice the huge black snake in the middle of road about a quarter of a mile ahead. Wanting a photo of the snake I hit the gas, I didn't make it far when the snake saw me and turned back for the scrub. I hit the brakes, grabbed my camera, and took off running as fast as I could, only to make it in just enough time to see the snake slip under a barbwire fence and back into the scrub.

I'm, of coarse, disappointed that I didn't get a photo of that gorgeous snake, but at least I got to see it. Four solid days of driving and about one hundred dollars in fuel, for just a glimpse of an indigo; for me it was worth it.

After my indigo encounter I went back and picked up Brian and Trevor, then we all went to give the sand skink another shot. Now that the indigo pressure was off I took a moment to grab a quick shot of one of the many gopher tortoises seen. These awesome animals are deserving of much more photographic attention than I gave them, but Ill make up for that on another trip some day.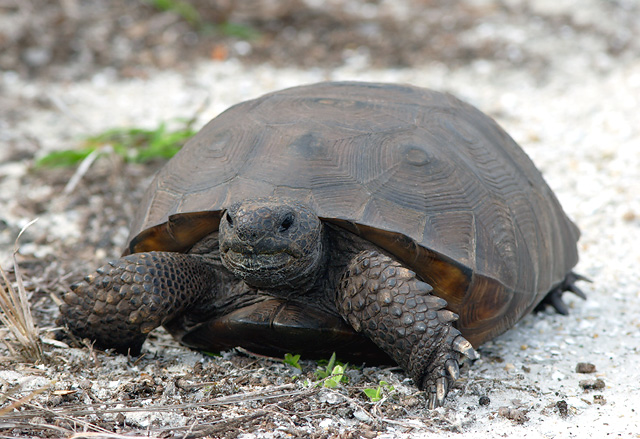 This narrow-mouth toad was flipped under artificial cover.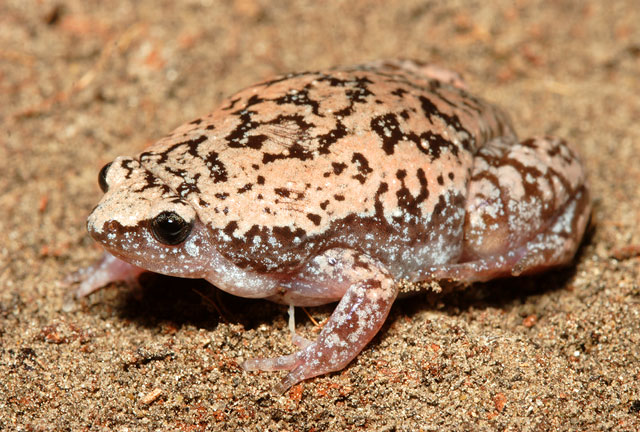 These Florida scrub lizards were a relatively common sight.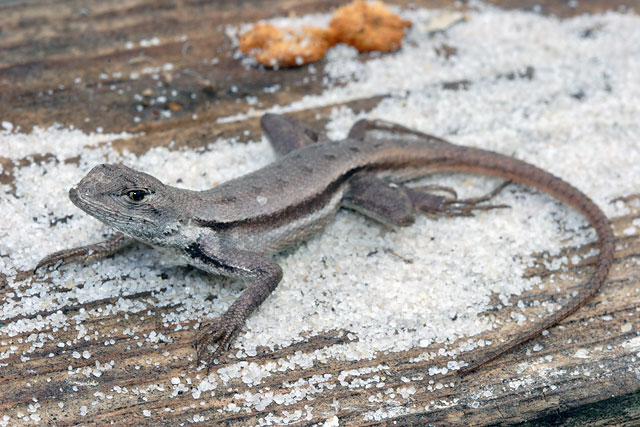 We didn't find the sand skink but this blue-tailed mole skink certainly made up for it.
Running out of daylight, we bid farewell to the Lake Wales Ridge scrub and headed north for the Gulf Hammock region. That night we drove through a couple of national forest and wile it was too cool for snake movement, there was plenty of frogs out calling. We stopped along a roadside ditch to photograph this Florida chorus frog.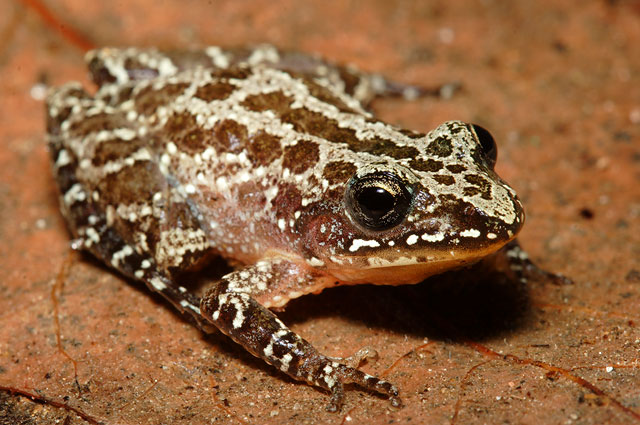 The next morning we found ourselves stopping in the little town of Gulf Hammock for fuel. While Brian filled up the car I walked around to the back of the stationed where I flipped a small piece of sheet metal and uncovered this blue-striped garter snake.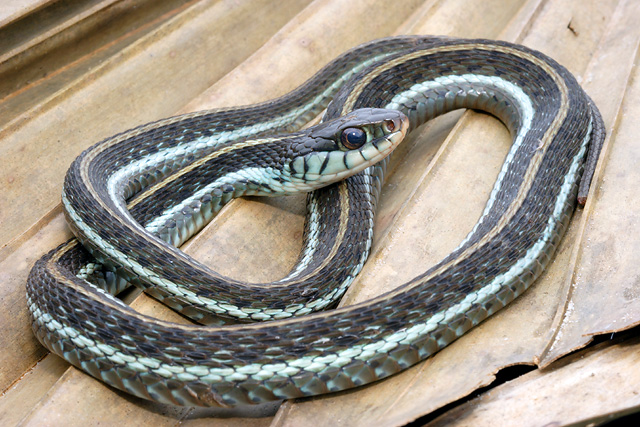 This was one of the species we came to the area for, and it was a nice change pace that it came so easily.

We spent a good portion of the day looking for and flipping trash in the region before giving up and moving further north for the Apalachicola National Forest.

Driving north, then west, along the coast offered many opportunities for fresh oysters, something we had planned on indulging in before we ever left Missouri. We picked a little hole-in-the-wall joint, called Deal's Famous Oyster Bar, that turned out to be just perfect. We bellied up to the bar and ordered up a couple dozen raw oysters apiece, along with a big sweet tea. Lucky for us, the owner of the place was the guy that was shucking our oysters on the other side of the bar. He turned out to be a super nice guy that kept throwing us freebies. We thought we'd give the oysters all-the-way a try, due to one of the waitress's commenting on how good they were. She was right they were great. They consisted of raw oysters, each with a jalapeņo, sprinkled with imitation bacon bits, covered in yellow and white shredded cheese, and then "baked" in the microwave to melted perfection. We followed those up with a couple dozen more raw before finally throwing in the towel. If you ever find yourself driving along the coast in the eastern panhandle I highly recommend stopping in at Deal's Famous Oyster Bar and giving the oysters all-the-way a try; you won't regret it.

After spending the night in the parking lot of an IGA in Apalachicola we worked our way north through the forest flipping trash and rolling logs along the way. This did get us one small corn snake but due to it being opaque I passed on taking any photos of it.

Our final stop of the trip was a creek in the northern end of the forest that Chad Whitney and Mike Rochford turned us on to. The main target for this spot was an Alabama waterdog and while we didn't find any of these, or any other aquatic salamanders for that matter, we did find a few cool terrestrial salamanders, a small cottonmouth, and a few southern ring-neck snakes.

The first salamander found was this three-lined salamander. This was a lifer for me and one I was hoping to see.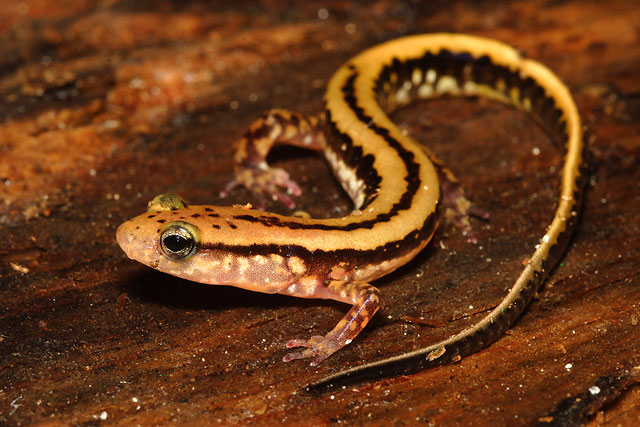 Another lifer I was hoping for was this Apalachicola dusky salamander.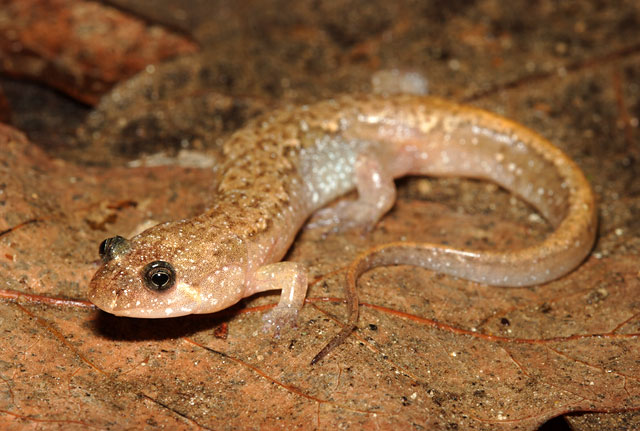 The final salamander of the day was this southern two-lined salamander, a species I have encountered before but nonetheless was happy to see again.
I owe a BIG THANKS to all those mentioned above for all the help and hospitality they offered and showed us.

Anthony
Daniel
Mike
Bill
Chad
John

Thanks guys!

A complete list of all herps encountered on our trip can be found below:

Lifers:

Herps, 34
Birds, 4
Mammals, 3

Herps:

Southern dusky salamander, Desmognathus auriculatus-
(lifer)
Southern two-lined salamander, Eurycea cirrigera - 1
Three-lined salamander, Eurycea longicauda guttolineata - 5 (lifer)
Southeastern Slimy salamander, Plethodon grobmani- 2
Southern toad, Bufo terrestris - many
Greenhouse frog, Eleutherodactylus planirostris planirostris - many (lifer)
Eastern narrowmouth toad, Gastrophryne carolinensis - 1
Green treefrog, Hyla cinerea- 1
Squirrel treefrog, Hyla squirella - 2
Cuban treefrog, Osteopilus septentrionalis - 5 (lifer)
Southern spring peeper, Pseudacris crucifer bartramiana - tntc
Florida chorus frog, Pseudacris nigrita verrucosa - tntc (lifer)
Little grass frog, Pseudacris ocularis - tntc
River frog, Rana heckscheri - 1
Southern leopard frog, Rana sphenocephala - many
Eastern spadefoot toad, Scaphiopus holbrooki holbrooki - 1
Florida scrub lizard, Sceloporus woodi - 5 (lifer)
House gecko, Hemidactylus mabouia - many (lifer)
Brown anole, Anolis sagrei - many
Ground skink, Scincella lateralis - 1
Eastern glass lizard, Ophisaurus ventralis - 2
Green iguana, Iguana iguana - many (lifer)
Northern curly-tailed lizard, Leiocephalus carinatus - 2 (lifer)
Mediterranean gecko, Hemidactylus turcicus - 5+
Indo-Pacific gecko, Hemidactylus garnotii - 2+ (lifer)
Tokay gecko, Gekko gecko - 6 (lifer)
Southeastern five-lined skink, Eumeces inexpectatus – 3+
Bluetail mole skink, Eumeces egregius lividus - 3 (lifer)
Black spinytail iguana, Ctenosaura similes - 5+ (lifer)
Mexican spinytail iguana, Ctenosaura pectinata - 2 (lifer)
Giant whiptail, Cnemidophorus motaguae - 1 (lifer)
Rainbow lizard, Cnemidophorus lemniscatus - 3 (lifer)
Brown basilisk, Basiliscus vittatus - 1 (lifer)
Brown anole, Anolis sagrei - tntc
Knight anole, Anolis equestris - 4+ (lifer)
Bark anole, Anolis distichus - 1+ (lifer)
Crested anole, Anolis cristatellus - 1+ (lifer)
Green anole, Anolis carolinensis - 4+
African redhead agama, Agama agama - 1 (lifer)
Florida cottonmouth, Agkistrodon piscivorus conanti - 2
Everglades racer, Coluber constrictor paludicola - 4 (lifer)
Southern ringneck snake, Diadophis punctatus - 5
Eastern indigo snake, Drymarchon corais couperi - 1 (lifer)
Corn snake, Elaphe guttata guttata - 1
Everglades rat snake, Elaphe obsoleta rossalleni - 3 (lifer)
Gulf Hammock Rat Snake, Elaphe obsoleta williamsi* - 1 (DOR)
Eastern mud snake, Farancia abacura abacura - 1 (lifer)
Florida kingsnake, Lampropeltis getula floridana - 3 (lifer)
Brooks kingsnake, Lampropeltis getula brooksi* - 1 (lifer)
Scarlet kingsnake, Lampropeltis triangulum elapsoides - 2
Eastern coachwhip, Masticophis flagellum flagellum - 1
Mangrove saltmarsh snake, Nerodia clarkii compressicauda - 1
Florida green watersnake, Nerodia floridana - 1 (lifer)
Florida watersnake, Nerodia fasciata pictiventris - 2 (DOR)
Banded watersnake, Nerodia fasciata fasciata - 1 (DOR)
Brown watersnake, Nerodia taxispilota - 2
Brahminy blind snake, Ramphotyphlops bramina - 5 (lifer)
Dusky pygmy rattlesnake, Sistrurus miliarius barbouri - 4
Peninsular crowned snake, Tantilla relicta relicta - 1 (lifer)
Peninsula ribbon snake, Thamnophis sauritus sackenii - 1
Bluestripe garter snake, Thamnophis sirtalis similes - 1 (lifer)
Eastern garter snake, Thamnophis sirtalis sirtalis - 1
Florida softshell, Apalone ferox - 1
Gopher tortoise, Gopherus polyphemus - many
Peninsula cooter, Pseudemys floridana peninsularis - 1 (lifer)
Florida redbelly turtle, Pseudemys nelsoni - 2 (lifer)
Red-eared slider, Trachemys scripta elegans - 4
American alligator, Alligator mississippiensis - many
American crocodile Crocodylus acutus - 1 (lifer)

Birds of interest:

Florida scrub jay - many (lifer)
Burrowing owl - 3 (lifer)
Common ground dove - 6+ (lifer)
Monk parakeet - 5+ (lifer)

Mammals of interest:

West Indian manatee, Trichechus manatus - 3+ (lifer)
Hispid cotton rat, Sigmodon hispidus - 1+ (lifer)
Feral pig, Sus scrofa -1 (lifer)
Bob cat, Lynx rufus - 1
Coyote, Canis latrans - 1 (IL)
Red Fox Vulpes vulpes - 1 (MO)